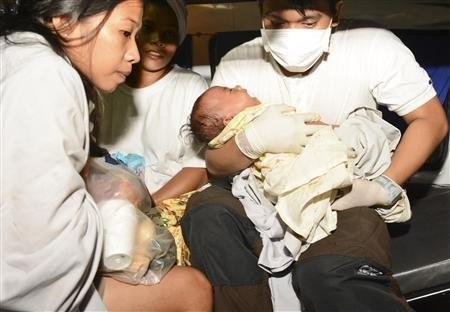 In a horrific accident, a passenger ferry carrying around 800 passengers collided with a cargo ship and sank within minutes claiming at least 28 lives while over 200 passengers are reportedly still missing.
The collision is said to have been caused due to the thick darkness near the port of Cebu, Philippines on late Friday night which led to the sinking of the passenger ferry St Thomas Aquinas.
Soon after the tragedy, coast gaurds, local fisherman and military vessels reportedly dove in to rescue the hundreds of people shrieking for help in the cold waters. Over 600 people were rescued in the operations.
While on Saturday, the death toll reached 28 as four more bodies were fished out. Around 217 people still remain missing, announced The National Disaster Risk Reduction and Management Council (NDRRMC) in its report on Saturday morning.
All 38 crew members of the St Thomas along with the captain have been rescued while investigation is on to ascertain the exact cause of the accident.
Even though several speculations are on, most common reason for such cases is hinted at the very narrow Cebu channel which makes it highly hazardous.
However, spokesperson for 2Go Shipping Lines, owner of Aquinas, Bimsy Mapa was quoted by Philippine Star as saying, "We don't want to speculate. We don't want to preempt the investigation that would be conducted by the authorities of the Philippine Coast Guard."
Meanwhile, survivors recalled horrors of seeing fellow passengers drowning after being pulled by the ship as it kept sinking. While reports stated that children accounted a good part of the passengers and several of them still remained missing.
Jerwin Agudong, one of the rescued, told local radio dzBB, "It seems some were not able to get out. I pity the children. We saw dead bodies on the side, and some being rescued." Agudong and few others managed to jump in front of the cargo ferry and one fellow was even injured banging his head on the metal.
Search operations are on with the help of divers and coast guards.
A Reuters report stated that ferry accidents are fairly common in Philippines which comprises of around 7,100 islands. Mostly, overcrowding of the ferries, low safety standards and the weather conditions (typhoons) are the probable cause of tragedies in water in the island country.