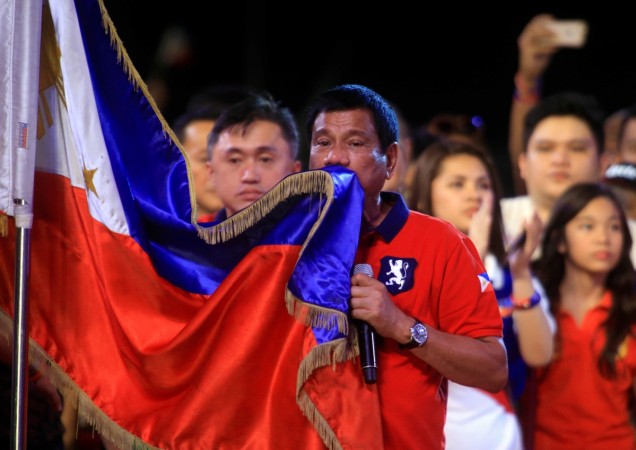 Rodrigo Duterte, who swept the Philippine presidential elections this week despite a widely criticised campaign, is reportedly planning to meet Pope Francis to offer an apology over an unsavoury remark he had made about the Catholic leader during his profanity-laden rallies. Duterte had referred to the Pope as a "son of a wh--e."
Duterte, 71, has often been compared to U.S. presidential candidate Donald Trump, with both known for making unabashed, politically incorrect statements during their presidential campaigns. Duterte had lampooned the Pope over massive traffic jams that affected Manila during the latter's visit to Philippines last year.
"It took us five hours to get from the hotel to the airport. I asked who was coming. They said it was the pope. I wanted to call him: 'Pope, son of a wh--e, go home. Don't visit anymore,'" the Philippine president-elect had said, according to AFP.
On Thursday, Duterte's spokesperson said he wanted to visit Vatican to apologise to the Pope.
"The mayor repeatedly said he wants to visit the Vatican, win or lose, not only to pay homage to the pope but he really needs to explain to the pope and ask for forgiveness," Peter Lavina reportedly said. He has reportedly already issued an apology to Pope Francis in a letter, with his aides claiming that the Vatican offered "the assurance of prayers."
However, the Pope was not the only one to be targeted by Duterte with the insult. He had also reportedly called outgoing Philippine President Benigno Aquino "son of a wh--e." Before Monday's voting, Aquino had urged voters to not let Duterte come to power, warning of a "return of terror" as during the dictatorship of former ruler Ferdinand Marcos, who was ousted in 1986.
Among Duterte's most controversial statements was the threat of mass execution of criminals, having already been accused by human rights groups of extra-judicial killings of as many as 1,000 suspected criminals as the mayor of the southern Philippine city of Davao.
He also made a tasteless joke about wanting to rape a "beautiful" Australian missionary who was sexually assaulted and killed during a prison riot in Davao in 1989.
Duterte, however, won the election by a landslide, and his spokesperson claimed his foul language was part of a strategy to attract voters.
"You have to understand the Philippine style of elections. The context is most of our politicians need to communicate to our audience so many of our politicians sing and dance," Lavina reportedly said.