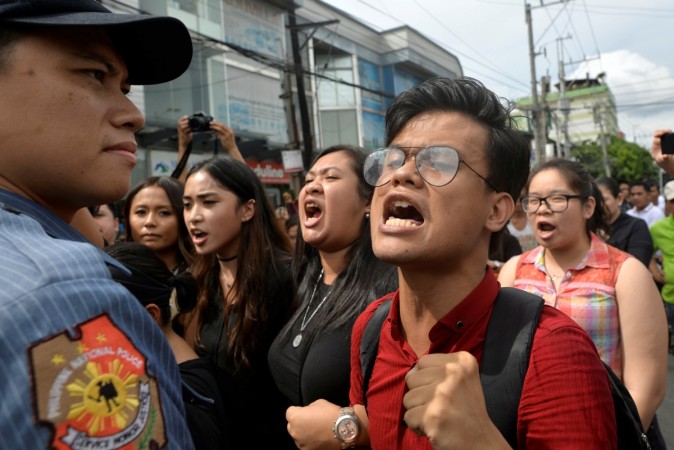 Ferdinand Marcos, the Philippine dictator who was in power for more than 20 years, was buried in the Cemetery of Heroes in Manila on Friday.
The ceremony, which took place in secrecy away from the media and public view, included a 21-gun salute by soldiers in parade dress and ceremonial rifles. His body was flown from his hometown in a helicopter to the Cemetery of Heroes to avoid protests.
"This is nothing new to the Marcoses — they who had hidden wealth, hidden human rights abuses and now hidden burial — with complete disrespect for the rule of law," Vice President Leni Robredo said in a statement.
President Rodrigo Duterte had said during his election campaign that he would allow a hero's burial for the dictator.
Protesters had opposed the Supreme Court ruling that he could be buried in the cemetery, where former artists, politicians and soldiers have found their resting place.
Marcos had died 30 years ago while in exile in Hawaii. He was the dictator of Philippines from 1965 to 1986, when he was overthrown by the People' Power movement. He died in exile in 1989. His body was brought to Philippines in 1993. The body was then kept in a refrigerated crypt in Batac, Ilocos Norte (his hometown), from where it was flown to Manila on Friday.
He has been called one of the most corrupt leaders in the world. Under his rule, the country incurred almost $30 billion debt from the World Bank. He was also accused of committing human rights violations by thousands in the country.
His burial was coordinated by his eldest daughter, Imee, who is a governor of the Philippines province of Ilocos Norte. Other members of his family, such as his widow Imelda, and son, Ferdinand Jr. ("Bongbong"), also hold positions in the government. The family assumed positions in the government after his demise.
Imelda, an equal partner in Ferdinand's excesses, was known for her opulent lifestyle with a collection of shoes numbering in hundreds. Today, there's a Shoe Museum in the northern city of Marikina where her collection is showcased.
The secret burial has evoked criticism and protests in Philippines, as people recall Ferdinand's brutal use of force during the period of martial law.