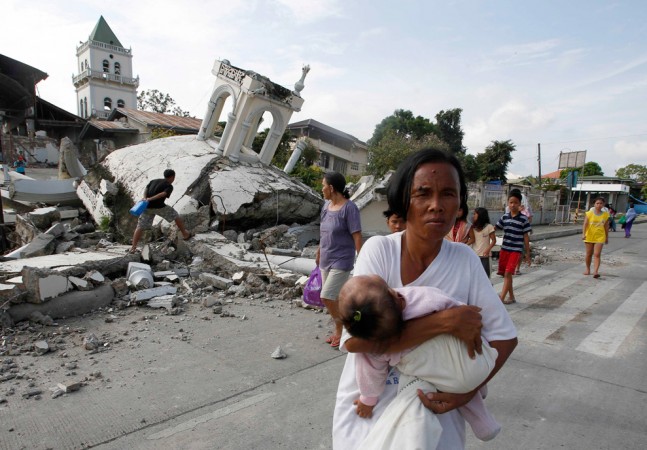 As seismologists in the country say that a 7.2-magnitude earthquake produced by the Valley Fault System may hit several parts of Manila any time, Philippines has chalked out a detailed action plan to save itself from a Nepal-like situation.
In a bid to minimise destruction to lives and structure, the country has introduced the new Valley Fault System Atlas, a tool that will ensure Metro Manila is prepared for the "big one", according to local experts.
The atlas prepared by the Philippine Institute of Volcanology and Seismology (Phivolcs) contains detailed images of specific streets and villages lying on or near the fault line.
"Previously, the official fault maps of Phivolcs only used a 1 to 10,000 scale and showed municipalities and a few streets. Now, the new atlas has a more detailed scale of 1 to 5,000, which shows actual streets, villages, and even the outline of some structures," Phivolcs director Renato Solidum told CNN.
The country's disaster management agency, which has warned of a "mega earthquake" in Metro Manila, has asked its citizens to be prepared. Phivolcs director Solidum, who sounded the alarm bells, stated that only by being prepared can a Nepal-like destruction be prevented.
In Nepal, more than 8,000 people were killed after the country was hit by a 7.8 magnitude earthquake last month. Last year, a joint study by Filipino agencies and the Australian government had found that a 7.2 magnitude earthquake in the West Valley Fault could kill 37,054 people.
After it was predicted that Philippines would face a major earthquake, the affected citizens who live along or on the fault line took to Twitter to express their fears. The hastag #PrayForThePhilippines became a trend on Twitter.
Twitter Reactions
istel ‏@CryselTomlinson
God is the who we need right now. #PrayForThePhilippines
no control ‏@HOERUNS
i was told about this possible earthquake months ago, but now, it's all over Philippine news and i so am scared #PrayForThePhilippines
arianne ‏@arianneharn
Stop saying you're going to die bc of the 7.2 earthquake that will hit us. We're the most prayerful country so shhh #PrayForThePhilippines
yana ◡̈ ‏@tomlinwhoops
Protect us from any harm, oh Lord.
May you hear our prayers and give us the strength we need. We love you. #PrayForThePhilippines
Ryan Cris Lucero ‏@RyeCris16
Hope all is well to you guys! A magnitude 7.2 earthquake might head to our place, not sure when. Stay safe! #PrayForThePhilippines
Let's pray guys :) #PrayForThePhilippines pic.twitter.com/luzDofMrfQ

— Sheree. ❤ INACTIVE (@harryftsher) May 19, 2015