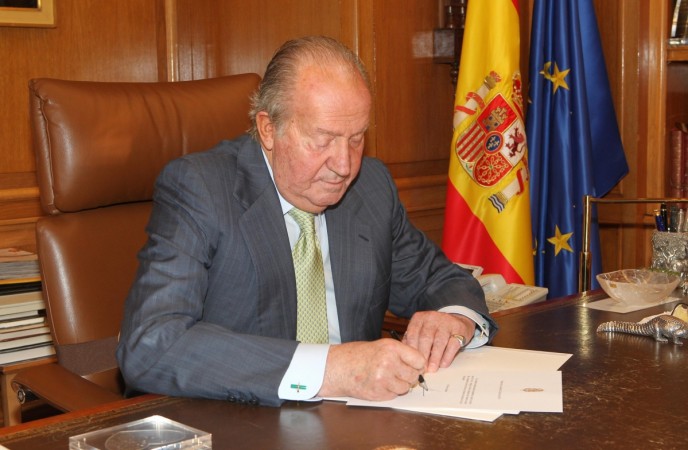 King of Spain Juan Carlos I will step down from the throne and make way for his successor, ending a 40-year reign, the country's Prime Minister Mariano Rajoy revealed on Monday.
Crown Prince Felipe, 46, will succeed his father, Rajoy announced in a nationally televised address. He will reign under the name 'Felipe VI'
"His Majesty King Jauan Carlos has just informed me of his desire to renounce the throne and begin the process of succession," Rajoy said in a short statement.
The PM did not offer a reason for the 76-year-old king's surprise abdication, though Juan Carlos issued a statement later on Monday.
Great Emotion
In his abdication speech, the king said that he made the decision with "great emotion". Expressing his gratitude to the Spanish people, Juan Carlos said that the country had enjoyed a long period of peace, stability and progress.
"Today a new generation must be at the forefront (of Spain). Younger people with new energies (are needed) to undertake the reforms that the present juncture demands of us," the king stated.
Juan Carlos also revealed that he made the decision to abdicate in January, when he turned 76. He added that his only ambition and desire was "to contribute to the welfare and freedom of Spanish people".
For much of his reign, Juan Carlos was one of the world's most popular monarchs. However, majority of the citizens lost confidence in him in recent years. His name has been tarnished, especially because of a long-running corruption investigation in which his daughter and her husband are involved.
Spaniards lost faith in Juan Carlos when it came to light that he was on a lavish elephant hunting trip to Botswana in April 2012, at a time when the country was struggling with an unprecedented financial crisis.
King of Democracy
There is a general consensus that Juan Carlos dedicated most of his reign to bring about reconciliation between Spaniards of different political standards and different regions, according to analysts.
One of the king's finest hours is considered to be the time when he took a decisive stand to halt a right-wing military coup in 1981, where he stated that he would not tolerate any attempt to overthrow the nation's democracy.
Spain does not have a specific regulation on the abdication process and the royal succession. Rajoy stated that ministers would hold a special meeting, to discuss the process by which Felipe VI would take over the crown.
During the brief television address, the Prime Minister stressed that Juan Carlos was a "tireless defender of our interests", also adding that he is "convinced this is the best moment for change".
In 1969, when Juan Carlos was invested as Crown Prince and the designated successor to Franco - the dictator of Spain, he became Spain's first crowned head of state.
But Juan Carlos soon ignored Franco's supporters, who wanted to extend the autocratic style of rule, and thereby ushering in a new system of parliamentary monarchy - a deed he is best appreciated for.
Juan Carlos was a popular head till a few years ago but the corruption allegations against his daughter Cristina and her husband Inaki Urdangarin led to calls for him to step down.
Further, his hunting trip to Africa fuelled the fire that was already burning down his fame and popularity.