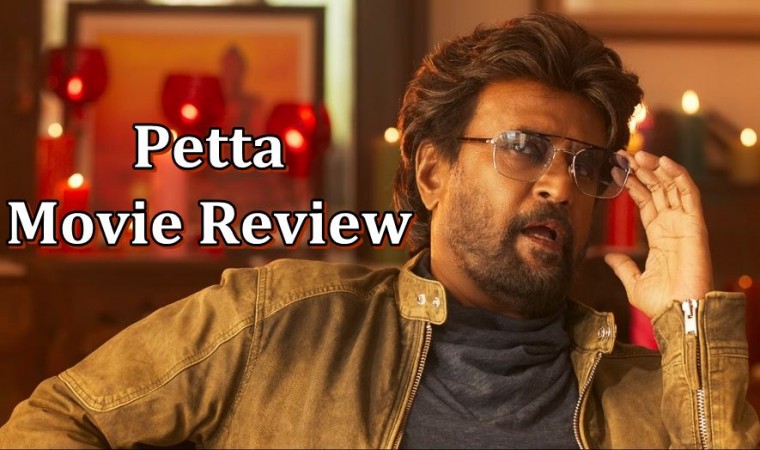 Rajinikanth's Petta is the kind of film that his fans would like to watch. It is the celebration of his hit movies in 90s which is full of life with action, comedy and Rajini's unique mannerisms. It is out-and-out Rajini's film with plenty of references to his past films.
An opportunity to work with Rajinikanth is luring so much so that a filmmaker like Karthik Subbaraj, who broke away from stereotypes and made content-driven movies, decides to do a film that best suits the superstar's image.
The young filmmaker has churned out a storyline that has the right amount of commercial ingredients. A great amount of planning has gone into showcase Rajini at his stylish best with colourful outfits. Every single frame looks bright and Rajini's unmatchable screen presence will double his fan's joy as he mouths punch dialogues and entertains them with his trademark moves.
Petta Story:
Rajinikanth plays the role of a warden named Kaali in Petta. The initial part of the movie shows him trying to bring the young hearts together even as he falls in love with the character played by Simran. He also takes on the bad boys of the college. The story gets interesting once UP politician played Nawazuddin Siddiqui and his son (Vijay Sethupathi) come into the picture. The mysterious past of the warden gives twists to the storyline.
Petta Review:
Rajinikanth's last couple of movies had failed to present those elements which his fans love to see in his films. Karthik Subbaraj has crafted such a movie which is an enjoyable ride. He has treaded on tried-and-tested path, but has not failed to give occasional twists to the storyline. It is a fun to watch the superstar's signature mannerisms which give goosebumps to his hardcore fans. Except for the length, the movie does not have much drawbacks.
Audience Response:
Has the movie lived up to the viewers' expectations? Find it in their words below:
Average Ratings Given by Audience: 3
Rohit Venkatraman: #Petta Thoroughly Enjoyed & what more needed am Super #Rajinified after watching it . Only a hardcore Thalaivar fan ll understand what fanatics are waiting for &
@karthiksubbaraj has delivered it convincingly. Witness
@rajinikanth at his stylish best in every frame he appears.
Salomiyaaaa: #Petta is unbelievably super . Karthick Subburaj just created a super awesome Magic once again . Story and screenplay is just mind blowing . A Complete family entertainer Thank you
@karthiksubbaraj
sir. After Baasha this gonna be a milestone in Superstar career.
4.5/5
sridevi sreedhar: #Petta:The best #Rajini film in recent time. More of a superstar film than a
@karthiksubbaraj one.. Tad too long but definitely a must see for the fans of Rajini, as he tries his best to look young and bring back the good old days
Haricharan Puddipedi: #Petta kind of derails in the second half and tests one's patience with a bloated climax. Nevertheless, it's a fun watch, particularly because of
@rajinikanth , who is in his element and gives us plenty of reasons to cheer.
In love with #Petta at interval. This is @karthiksubbaraj 's love letter to superstar
@rajinikanth , who is a joy to watch in a role that brings out his chirpier side while concealing a dark, violent shade.
Ramesh Bala: #Petta [3.25/5] : A Treat for #Thalaivar fans.. More a Tribute to 90's #Superstar Movies..He has done it all.. Action , Dance etc.. Watch it for a unique #Thalaivar experience..
#Petta 1st Half: Vintage #Thalaivar of Stylish 90's Back.. Verithanam in action sequences by #Superstar One man show all the way.. Looking forward to #PettaParaak in 2nd half..
HARISH : #Petta first half ... totalay Marana Mass...No Boring Scenes Thalaivar dominating in style,Mass,swag,comedy, action and acting with a pinch of romance...Interval block young get up absolute fabulous Waiting For #PettaVelan
BalajiKannan: At #Petta interval. Enjoyable. Full on Rajini celebration and nostalgia. Lot of references from his all time hits. Takes its time to get to the core plot. BGM huge plus. Little scope for others. Second half might have more meat. #PettaParaak
Review Ram: #Petta - Interval - Picks up well in the progression after a bit slow start. #Thalaivar is stylish and stunning to the core in every frame he appears. All forms of commercial elements induced at a fitting proportion. 'Enjoyable' so far.
KS has extracted the best from #Thalaivar, his screen presence is rock-solid and the mass moments worked big time with Ani's BGM. Core plot and characterizations would have had stronger writing, a bit lengthy stuff too. A crowd-pleasing commercial entertainer.
#Petta - Interval - Picks up well in the progression after a bit slow start. #Thalaivar is stylish and stunning to the core in every frame he appears. All forms of commercial elements induced at a fitting proportion. 'Enjoyable' so far.
#Petta - 2.75/ 5.
Surendhar MK: @DOP_Tirru's cinematography captures #Thalaivar's histrionics like a dream. Absolutely great work. Be it the lighting or framing, his work is topnotch and stands out from the rest.
@anirudhofficial 's best work IMO with the background score. Proves he's a diehard #Thalaivar fan with his strings. @karthiksubbaraj utilized all the songs beautifully. #Ullaallaa video will be one of my alltime favorites, thanks to #Rajinism.
#Petta first half: நாடி நரம்பு ரத்தம் இது எல்லாத்துலயும் ரஜினி வெறி ஊரன ஒருத்தனால தான் இது முடியும் @karthiksubbaraj has sculpted each and every frame in the film. Story takes time to kick off, but it's opening up beautifully with vintage #Rajinikanth peppered all over.
Rajasekar: #Petta - What didn't work : Too long, completely in contrast with the highly entertaining first half so it won't be everyone's cup of tea. Should wait and see how it would work commercially. But another gutsy attempt by #SuperstarRajinikanth
#Petta first half - The most entertaining #SuperstarRajinikanth in recent times. Rajinism filled through out . Feast for all #Thalaivar fans.
Suganth: The first half of #Petta is like the greatest hits collection of #Rajinikanth. Takes a while to get into the actual plot, but the early hour is a treat for fans who missed the playfulness of the #Superstar. #Rajinified, definitely.
SUPER_One_: #Petta first half....
One word:
BLOCKBUSTER
Verithanam Thalaivar Padam... Otha... Rajini da
S Abishek: #Petta is a @rajinikanth film.
A film that emotes well and entertains to the fullest
God bless you @karthiksubbaraj
You have quenched the thirst of crores of @rajinikanth fans.
One more half to go