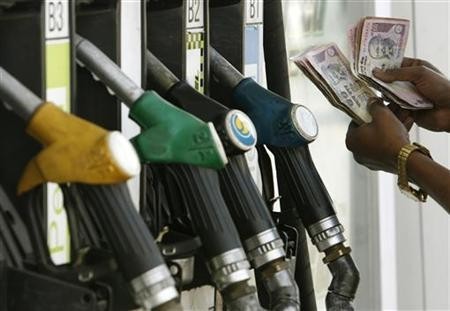 India may soon brace another petrol price hike, with state-owned oil companies putting pressure on the government for an increase in prices given their mounting losses in the wake of a steep rise in international crude oil rates.
According to reports, oil-marketing firms (OMC) across the country are pushing for a hike of ₹3 per litre to compensate their on-going losses. The commodity was deregulated in June 2010, while kerosene, diesel and cooking gas remained subsidized in a bid to check inflationary pressures. With the petrol rates last revised in July to 70 paise increase, other subsidized commodities also moved in tandem with the cost.
With the monsoon session in parliament almost at an end and the UPA's encounter with Coalgate crisis seeing a toss, oil marketing companies may have to wait a little longer to get a nod on the petrol price hike.
"It's true that we are losing money on petrol, a deregulated product, and the hike is imminent. When and by how much? I can't say. It's just a matter of time," said an official of a leading OMC, adding that the timing will depend on the government nod. "The nod is unlikely come before the monsoon session of Parliament ends as the government is battling out the 'Coalgate' crisis," a director of a Mumbai-based oil retailer told The Times of India.
Not confident that the government will remunerate the losses, oil companies said they will be called in question by the Comptroller and Auditor General of India for failure to increase petrol prices. "We will request the government to make it a regulated commodity or give us a free hand to increase the prices," a board member of a PSU oil firm told the daily.
Although the petrol companies have the freedom to follow the international petrol price trend to increase the petrol price in the country, oil firms require official authority at the same from the government.