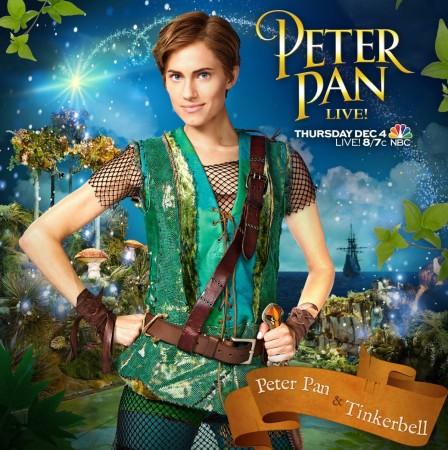 'Peter Pan Live' was deemed to be the television event of 2014, with Allison Williams donning green to be the "eternal boy" Peter Pan and Christopher Walken immortalising the legendary Captain Hook. The live musical, which played at 6.30 am (IST) on NBC, had all of Hollywood happily intrigued and live-tweeting their reactions.
While everyone looked forward to the tap-dancing, wire-flying and sword-fighting, it was Williams' portrayal of Peter Pan that stole hearts. In fact, Zack Braff of "Garden State" fame commented on how great she looked as a teenage boy.
"I want Allison Williams as a boy to take my gay virginity. #PeterPanLive," Braff tweeted.
Pop singer Katy Perry posted, "I BELIEVE IN YOU ALLISON WILLIAMS!!!" an hour into the show.
While a handful of celebrities who work or worked for NBC in some capacity applauded the broadcast, most people were unimpressed with the cast of the musical, especially, veteran actor Christopher Walken. Many felt that Walken was not even putting in a minimal effort and even messed up lip-sync many times.
Saturday Night Live's Pete Davidson published a few comments like "Yo what the f— is this?" and "This shit makes me want to grow up" from his makeup chair before rehearsal, but later deleted the remarks.
Comedian Amy Schumer posted, "This is the most elaborate ice bucket challenge yet. #PeterPanLive".
Comedian Sarah Silverman also seemed unimpressed with the live show on NBC and said, "There are only two women in #PETERPANLIVE and they're both Christopher Walken".
Meanwhile, actress Mia Farrow, who played Peter Pan in the 1976 musical adaptation, reminded everyone that it is not so easy to fly and claimed, "Christopher Walken = gold No matter what".
It's not so easy to fly pic.twitter.com/fAeLvYWyg4

— mia farrow (@MiaFarrow) December 5, 2014
Singer Josh Groban is happy that live-tweeting TV shows is a new tradition, "Say what you will, but I'm loving that live tweeting a yearly staged-for-tv musical is becoming a national tradition. #drinkyourovaltine". He also pulled everyone back to ground by reminding what is actually going on in the streets on America.
Meanwhile in AlwaysLand pic.twitter.com/osvZIPwdxe — josh groban (@joshgroban) December 5, 2014