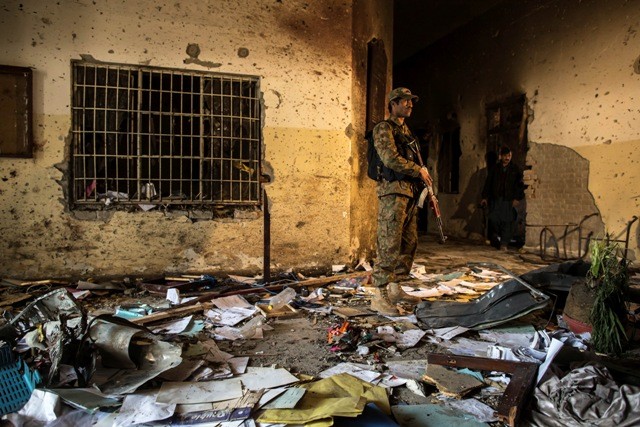 The mastermind behind the attack on the Army Public School in Peshawar in Dec. 2014 that claimed the lives of 144 students and staff members was killed in a US drone strike in Afghanistan, Pakistani security officials said on Tuesday. The attack was considered one of the worst in history, prompting several nations to declare an all-out war against terrorists in Pakistan.
Umar Mansour, alias Khalifa Mansour, alias Umar Naray, was shot dead along with another militant Qari Saifullah on Saturday in the Bandar area of the Nangarhar province in Afghanistan.
"What we have is pretty credible," one of the officials was quoted by Pakistani daily Dawn as saying in reference to the reports of Mansour being killed.
According to the daily, a Pakistani official said that they were still trying to confirm whether Saifullah, who was in charge of suicide bombers, was present on the spot during the drone strike. However, another official said that there were 90 percent chances that he had been shot dead along with Mansour.
The banned Tehreek-i-Taliban Pakistan (TTP) or any other independent source have not confirmed the death.
The US State Department had declared Mansour a global terrorist due to which he was included in the hit-list. This declaration came four days after Afghan Taliban leader Akhtar Mansour was killed in a drone strike in Balochistan on May 21.
"The focus would now be on getting Abdul Wali, alias Omar Khalid Khurasani, and Maulvi Fazlullah, also believed to be in Afghanistan," the officials were quoted by the daily as saying. They added that Pakistan shared intelligence and coordinated with Afghanistan, which had said that there were operational issues to go after them while not denying their presence in the country.
Khurasani is currently operating from Peshawar and Mohmand. Officials believe that he is the main man behind the extortion and targeted killings in the provincial capital and the tribal region. Fazlullah is concentrating on his native Swat.
Mansour fled to Afghanistan after a military operation in the Khyber tribal region. He was believed to be involved in the Sep. 2015 attack on a Pakistan Air Force base in the Badaber area of Peshawar, which claimed the lives of 29 people. He was also responsible for the Jan. 2016 attack on the Bacha Khan University in Charsadda in which 18 students and faculty members were killed.