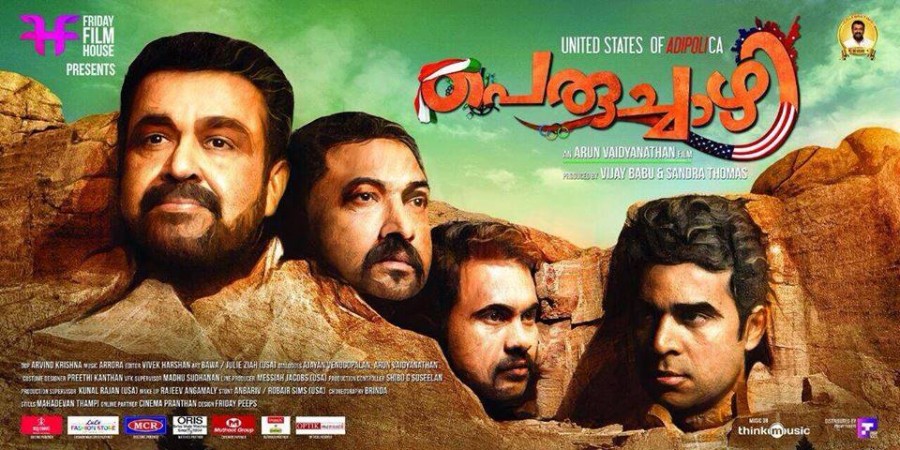 Malayalam Film "Peruchazhi" is all set to make it big this festive season.
The film, which was released on 29 August, has collected a whooping amount of ₹3 crore on its first day. This is a record collection ever for a Malayalam film. The film is expected to conquer the box office in the coming days also.
"Peruchazhi" had the biggest opening on 500 screens across the world, out of which 200 screens are in Kerala. The film was also screened in 30 theatres in the USA and is screened with English subtitles outside Kerala.
"Peruchazhi" is distributed by Friday Tickets in Kerala and the US and the rest of the distribution is done by Fox Star Studios.
Meanwhile, "Peruchazhi" team celebrated the film's success on Friday in Kochi, which was attended by the director Arun Vaidhyanathan and his family, producers Sandra Thomas and Vijay Babu, Mohanlal, Mukhesh, Cinematographer Arvind Krishna and other cast and crew of the film.
The cast and crew of the film thanked everyone for making the film a huge success.
Check below the responses of stars and crew members for the big opening the film received.
"Happy to hear good responses for Peruchazhi from all over. Congrats to whole crew behind the success." – Mohanlal
"We made a festival film and that's what it is. Getting great reports from all over. Thanks to almighty, fans and great response" – Arun Vaidyanthan
"Hi. feeling very happy that everybody acccepted "Peruchazhi" with both hands..lots of people and friends calling me after they watched the film and told me that they are very happy..this is my first malayalam film...but the response was overwhelming..thank you all..who wished me good luck,who prayed for my success, infact to all kerala people..hope for all of your support in my coming films too..love you all..God bless". – Ragini Nandwani
"We have been getting excellent response from theatres. Housefull shows ...Guess it will be a record collection. Thanks to all the people who called us and appreciated about our effort!!! Thanks a ton." – Sandra Thomas