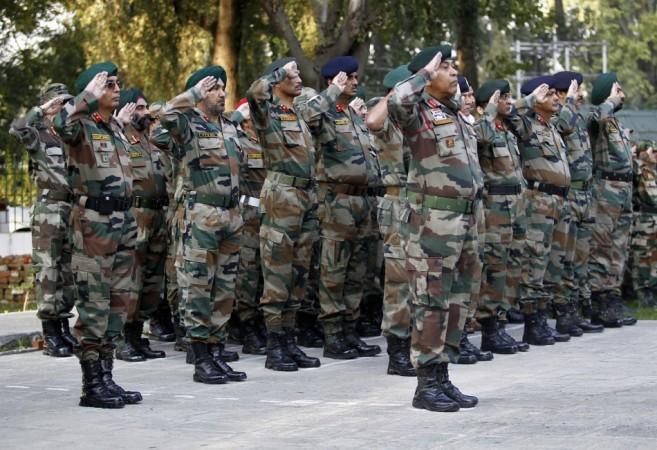 Defence Minister A K Antony announced that the Central government set up a nutritious ready-to-eat diet program 'AAHAR' in order to meet the fresh food requirements of jawans in the country. The announcement came on the eve of 66th Independence Day when Antony addressed the Armed Forces personnel over All India Radio.
In his speech the Defence Minister also expressed his and the UPA government's concerns for the welfare of jawans who are serving the country in the toughest and unreceptive terrain. "Our Government has been making all-out efforts to improve your living and working conditions. We have taken several steps to further improve the quality of rations, accommodation and clothing. Our scientists have developed a nutritious, ready-to-eat diet called "AAHAR". This will go a long way in meeting requirements of fresh food of all you jawans", Antony said.
The 66th Independence Day seems to have brought a host of perks for the Indian armed forces. To increase the service for the Ex servicemen, the government has widened the scope of Ex-Servicemen Contributory Health Scheme (ECHS) further by introducing more polyclinics and regional health centers under the Married Accommodation Project (MAP), which is also underway along with the AAHAR plan.
The MAP would ensure good living of army men. About 54,000 residences have already been constructed and 70,000 dwelling units' constructions have begun, the Defence Minister added.
He also made a remark on the country's biggest challenge i.e. corruption by appealing to the army men to keep away from this evil phenomenon and to get involved in work with honesty and transparency.
"Corruption not only badly affects the morale of the personnel, but also has many other implications. I appeal to each one of you to renew the pledge to work with all the honesty, fairness and transparency at your command in your day-to-day work".
Antony further spoke about the commissioning of INS Bazz, the Naval Air Station at Campbell Bay and INS Chakra, which will help in defence and also convey blue water capability to the Navy.
Antony congratulated army sportsmen who have done incredible performance at the London Olympics and brought laurel to the country. He concluded his speech by expressing grief over the loss of lives in various natural calamities across the country.
"My sympathies are with the survivors of the Nature's fury in Jammu & Kashmir, north-eastern states, Assam, Uttarkashi and other parts of the country, which have seen the worst type of floods in recent times. My heartfelt condolences go out to those, who lost their near and dear ones, including Armed Forces personnel."