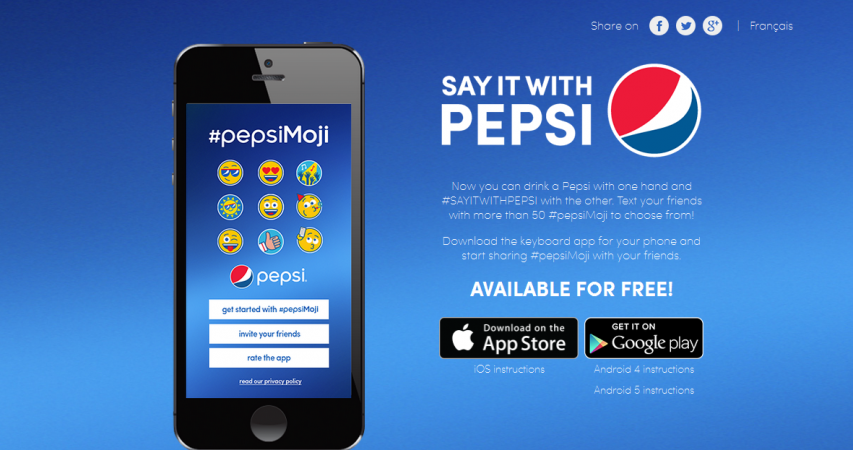 Emoji have become a part of everyday conversation. While sarcasm and other emotions are better conveyed through the spoken word, emoji seem to be doing a good job in getting the message across otherwise. In an attempt to get users to express themselves through feelings, Pepsi has launched an Android and iOS keyboard that lets people communicate via emoji.
With the app downloaded from the AppStore or the Play Store installed, the first step is to enable it. While it usually involves fiddling with the language and input settings on your device, tapping on the app icon simplifies things. The app opens to show the words "Get Started" displayed in bold, friendly letters, which upon tapping redirects to the page from where the keyboard can be selected. The next time the words "Select Keyboard" appear, tapping which allows users to select the new keyboard.
We tested the app on a Huawei/Google Nexus 6P and found it a little unnerving to see Google warning us that the keyboard might be able to "collect all the text that you type," while enabling it. Throwing caution to the wind, we enabled it anyway.
The keyboard is reported to function with a variety of apps. Sending messages via WhatsApp or Messenger did not go as we expected it to. While we expected the app to send emoji much like how one normally would using the default keyboard, sending emoji via the #PepsoMoji keyboard was a rather circuitous process.
Tapping on the emoji leads to the "Share via" menu on Android devices, from where users can select the app through which they wish to share the emoji. The next step is to select the contact and the app sends them an image. Users can also string together several emoji and share them as one combined image as well.
The keyboard also allows users to share GIFS and features a full-QWERTY keyboard as well, which can be accessed via tabs at the bottom left. The keyboard unfortunately doesn't support gesture typing. It also doesn't have a dictionary built in and definitely will not autocorrect what you type.
Pepsi has launched a few additional versions of the keyboard aimed at different countries. We found an Australian edition as well as an Indian edition.