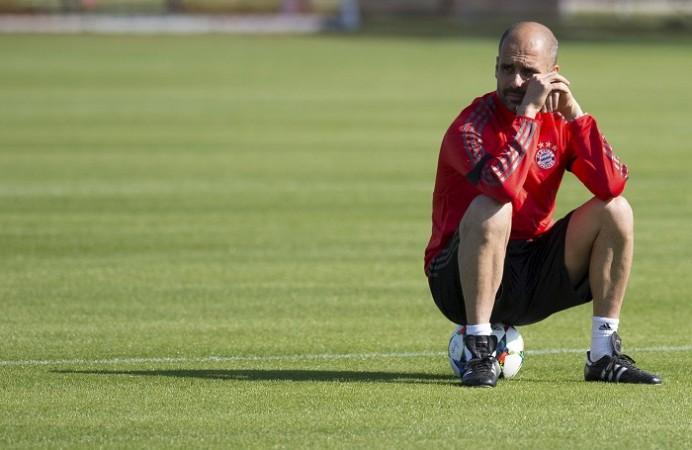 Bayern Munich manager Pep Guardiola has revealed he is willing to coach a Premier League outfit very soon, with the Spaniard set to leave the Bundesliga champions at the end of the season.
The statement by the former Barcelona manager has put English Premier league powerhouses Manchester United, Manchester City, Chelsea and Arsenal on high alert.
Guardiola has been heavily linked with a move to Man City next summer, but having said that, there has also been several occasions where he has been linked with Man United and Arsenal as well.
Recently, a source close to Guardiola revealed to the Daily Star that the Spanish coach sees Manchester United as a fascinating destination, and he could possibly move to Old Trafford next summer.
Also, former Premier League player Trevor Sinclair revealed on twitter that Arsenal have been chasing Guardiola's signature for many seasons, and he is seen as the perfect candidate to replace Arsene Wenger.
Manchester City coach Manuel Pellegrini also said that he hopes Guardiola has the option to work at Manchester City.

Chelsea, now, are also in the lookout for a new full-time manager at the end of the season to take over from interim coach Guus Hiddink. Plenty of options are available for the ex-Barca star gaffer, but which club will he choose at the end? That remains the biggest question for now.
"I want to coach in the Premier League. That is the reason I did not prolong my contract [at Bayern]," Guardiola was quoted as saying to British newspaper Independent on Tuesday. "I want to experience a new city and I want to work in England. That is the reason I have taken this decision.
"There are offers, but I haven't signed anything yet. When I have a new club, the club will communicate that. At the moment, I can't say anything else because nothing is fixed."
It was only weeks back that Bayern chief Karl-Heinz Rummenigge revealed that Guardiola has already decided what his next destination would be. "I think I know where he is going, but I want to leave the announcement to him or his new employer," Rummenigge was quoted by the BBC.