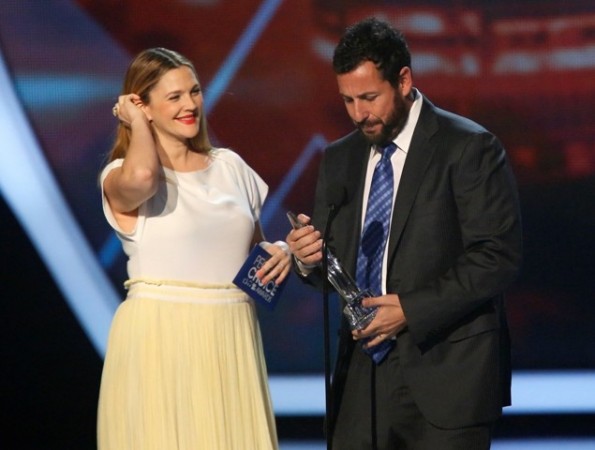 The 40th Annual People's choice Awards was held at the Nokia Theatre in Los Angeles on Wednesday, during which many from the entertainment industry were honoured for their work.
Over 700 million fans voted in support of their favourite film and television artists.
Sandra Bullock's "Gravity" and "The Heat" won her four trophies while "Iron Man 3" received "Favorite Movie" and "Favorite Action Movie" honours, along with Robert Downey Jr winning the "Favourite Action Movie Star." In the music section, singer Justin Timberlake emerged on top, taking home three trophies.
The full list of winners:
Movie actress: Sandra Bullock
Album: The 20/20 Experience, Justin Timberlake
Daytime TV host: Ellen DeGeneres
New talk-show host: Queen Latifah
Competition TV show: The Voice
Comedic movie actor: Adam Sandler
Network TV drama: The Good Wife
Comedic movie: The Heat
On-screen chemistry TV: Ian Somerhalder (Damon) and Nina Dobrev (Elena), The Vampire Diaries
Pop artist: Britney Spears
Comedic TV actress: Kaley Cuoco
Comedic TV actor: Chris Colfer
Dramatic TV actor: Josh Charles
Cable TV drama: The Walking Dead
Action movie star: Robert Downey Jr.
Comedic movie actress: Sandra Bullock
Actor in a new TV series: Joseph Morgan
Late-night talk show host: Stephen Colbert
Humanitarian: Jennifer Hudson
Actress in a new TV series: Sarah Michelle Gellar
Network TV comedy: The Big Bang Theory
Sci-fi/fantasy TV actor: Ian Somerhalder
Cable TV actress: Lucy Hale
Streaming series: Orange Is the New Black
Movie: Iron Man 3
Movie actor: Johnny Depp
Movie duo: Sandra Bullock and George Clooney (Gravity)
Action movie: Iron Man 3
Dramatic movie: Gravity
Dramatic movie actor: Leonardo DiCaprio
Dramatic movie actress: Sandra Bullock
Family movie: Despicable Me 2
Horror movie: Carrie
Thriller movie: Now You See Me
Favorite year end movie: The Hunger Games: Catching Fire
Dramatic TV actress: Stana Katic
TV crime drama: Castle
Cable TV comedy: Psych
Premium cable TV show: Homeland
TV anti-hero: Andrew Lincoln (Rick Grimes), The Walking Dead
Sci-fi/fantasy TV show: Beauty and the Beast
Sci-fi/fantasy TV actress: Kristin Kreuk
New TV comedy: Super Fun Night
New TV drama: Reign
TV bromance: Jared Padalecki, Jensen Ackles and Misha Collins (Sam, Dean and Castiel), Supernatural
TV gal pals: Naya Rivera and Lea Michele (Santana and Rachel), Glee
TV movie/mini-series: American Horror Story
Series we miss most: Breaking Bad
Male artist: Justin Timberlake
Female artist: Demi Lovato
Breakout artist: Ariana Grande
Country artist: Taylor Swift
Country music icon: Tim McGraw
Hip-hop artist: Macklemore & Ryan Lewis
R&B artist: Justin Timberlake
Band: One Direction
Alternative band: Fall Out Boy
Song: Roar, Katy Perry
Music fan following: Lovatics (Demi Lovato fans)
Music video: Roar, Katy Perry