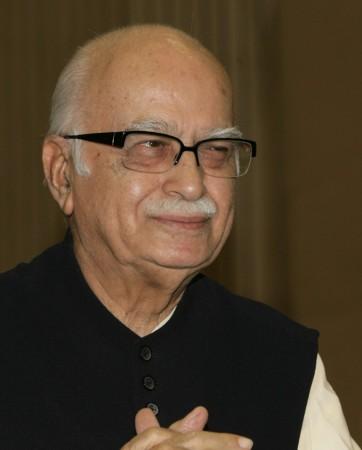 Bharatiya Janata Party (BJP) senior leader LK Advani has opened the pandora's box, revealing that all is not well in the party. He said that people are disappointed with BJP.
Indirectly taking a potshot at BJP President Nitin Gadkari, Advani, through his blog, expressed his unhappiness with the way the party handled several issues within the party in the recent past.
His revelation came amidst speculations that he was unhappy with Nitin Gadkari's reinstallation as the BJP president for the second term. He also skipped the recent National Executive meet wherein Gadkari's re-elected as party president.
"I had said at the Core Group meeting that if people are today angry with the U.P.A. Government, they are also disappointed with us. The situation, I said, calls for introspection," Advani wrote on his blog.
He said that the mood in the party is not the same anymore and criticized a few recent party decisions.
"The mood within the party these days is not upbeat. The results in Uttar Pradesh, the manner in which the party welcomed BSP Ministers who were removed by Mayawati ji on charges of corruption, the party's handling of Jharkhand and Karnataka - all these events have undermined the party's campaign against corruption," he wrote.
Advani praised Sushma Swaraj and Arun Jaitley but didn't mention Nitin.
"The fact that we have a sizable contingent of MPs in Parliament today as against the niggardly two seats in 1984, that our performance in the two Houses under Sushmaji and Jaitleyji has been excellent, that the party is in power in as many as nine states today is no compensation for the lapses committed," he wrote.
Meanwhile, it is said that Nitin Gadkari has not taken Advani's criticism in good vain. He apparently did not invite Advani and Sushma Swaraj to a party meeting held at his residence to discuss the impact of the Bharat Bandh that was called in protest against petrol price hike.