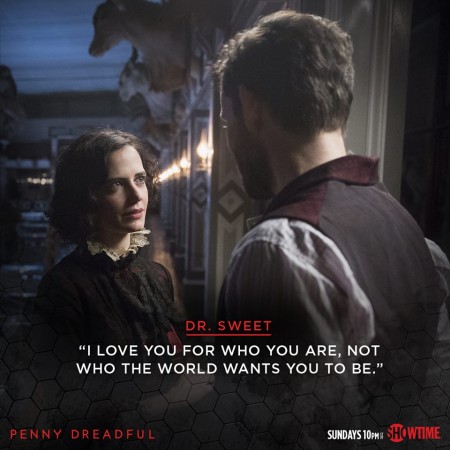 Season 3 of Showtime's "Penny Dreadful" will wind up this Sunday with a two-hour special titled "Perpetual Night" and "The Blessed Dark" and it will see Ethan coming back to England to save Vanessa, who finally learned the truth about Dr Sweet in the previous episode.
The official synopsis for the finale doesn't reveal much about what's in store for the key characters. It just says that Dr. Seward uncovers a secret and Ethan goes in search of Frankenstein. It is not immediately known if it will feature the highly-anticipated reunion of Vanessa and Ethan. These two characters have been separated all season, and Vanessa seems to have moved on in life with Dr Sweet, aka Dracula.
But according to showrunner John Logan, fans shouldn't dismiss Vanessa and Ethan's attraction so easily. "The pull between Ethan and Vanessa is so strong. She genuinely falls in love with Dr Sweet, and why wouldn't she? It's a challenging situation for her," the showrunner told Entertainment Weekly in an earlier interview.
There isn't much information on what happens in the finale, but fans are hoping it wouldn't feature a cliffhanger ending, as "Penny Dreadful" is yet to be renewed for a fourth season. "The ratings aren't great compared to other shows in premium cable, and while it may be a co-production, that doesn't necessarily mean that it is worth the money or space on the schedule for Showtime anymore," Carter Matt noted, raising doubts if the show will be renewed for a new season.
The official synopsis reads: "Ethan, Sir Malcolm and Kaetenay return to London, where Ethan searches for Dr. Frankenstein. Meanwhile, Dr. Seward discovers Renfield's secret; and Lily reveals a heartbreaking story from Brona Croft's past."
"Penny Dreadful" airs Sundays on Showtime.