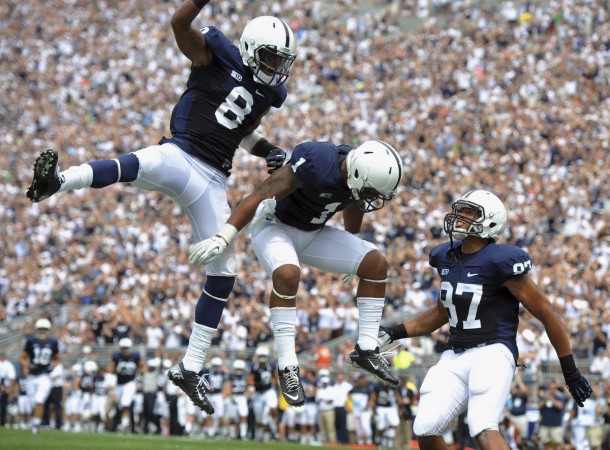 The NCAA Executive Committee eliminated Pen State University's ban on Monday due to their noteworthy progress in the athletics department, and the school will be eligible to play in the post season while also being entitled to football scholarships in 2015-16.
The four season ban was imposed after former assistant coach Jerry Sandusky was accused of sexual abuse.
The NCAA lifted the ban on the recommendations of former Senator George J. Mitchell, who was hired to scrutinize Penn State after the scandal. Mitchell concluded in a 58-page report that Penn State has made remarkable progress and now functions with integrity.
"In light of Penn State's responsiveness to its obligations and the many improvements it has instituted, I believe these student-athletes should have the opportunity to play in the postseason should they earn it on the field this year," Mitchell wrote.
Pen State was overwhelmed by the decision and expressed their gratitude in a statement issued by the university's president.
"This is welcome news for the university community, particularly for our current and future student-athletes," said Eric Barron, Penn State's president.
Meanwhile, NCAA also announced that it will withdraw its decision that Penn State should give out a $60 million fine for a national endowment for sexual-abuse survivors.
"The money will stay here in Pennsylvania where it belongs," said Jake Corman, a Pennsylvania state senator.
Penn State's football team, that is 2-0 this season, now has a chance to play in a bowl game for the first time since the 2011 season.
"We are very appreciative of the opportunities the NCAA and Big Ten have provided with today's announcement. This team plays for each other," James Franklin, Penn State's current coach, said.
"We play for Penn State, our families, the former players, our students, alumni, fans and the community. We are so proud to represent Penn State and the Big Ten Conference and are working hard to prepare for our Big Ten opener at Rutgers."
Sandusky was convicted in July 2012 on 45 counts of sexual abuse of 10 boys and was handed out a punishment of 30 to 60 years in prison.