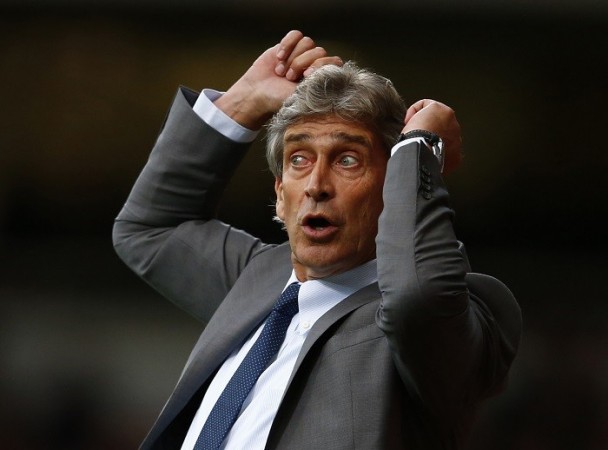 Manchester City manager Manuel Pellegrini has stated that he is looking forward to a new City-dominated era in English football, after leading the Citizens to Premier League glory in his debut season with the club.
The suspense and drama of the 2013/14 Premier League season finally ended on Sunday, with City beating West Ham United 2-0 at the Etihad and clinching their second title in the last three years.
Though this year's title race did not turn out to be as interesting as the 2011/12 season (where the Citizens grabbed the crown right at the death), it was surely more interesting than the 2012/13 campaign, where Manchester United won by 12 points.
Liverpool, who also registered a win in their final Premier League fixture against Newcastle United 2-1, were relying on the Hammers to do the impossible against the Sky Blues. However, that did not happen, and the Reds were made to rue over the dropped points against Chelsea and Crystal Palace.
And City boss Pellegrini, who incidentally became the first non-European manager to win the Premier League, has vowed to help the Citizens reach even greater heights by winning the Champions League and other trophies next season.
"Big teams cannot be satisfied with one title. This club and players deserve more titles. It is very important to celebrate but we will start working for the next season on Tuesday. Now that we have won the title we are going to do a balance of the year, and look at the positive and negative things and where we can improve the squad," stressed Pellegrini, who also helped his side lift the Capital One Cup this season.
"As a big team, that is the way we must continue thinking. It was a beautiful season but you always need to continue winning and continue improving. We will start working as soon as possible to be the strongest team next year."
Despite admitting to be disappointed by City's early exits from the Champions League and the FA Cup, the former Malaga boss says that he is satisfied with his side's season.
"It has been a brilliant season. We were involved in all four competitions for longer than any other English team, and we won two of them as well so I am very happy. It was a disappointment to go out of Europe when we did and the Wigan defeat was tough to bear. But when you consider that we played 14 or 15 games more than Liverpool in the entire season then maybe if we had gone further than we did, I would not be sitting here speaking about winning the Premier League."