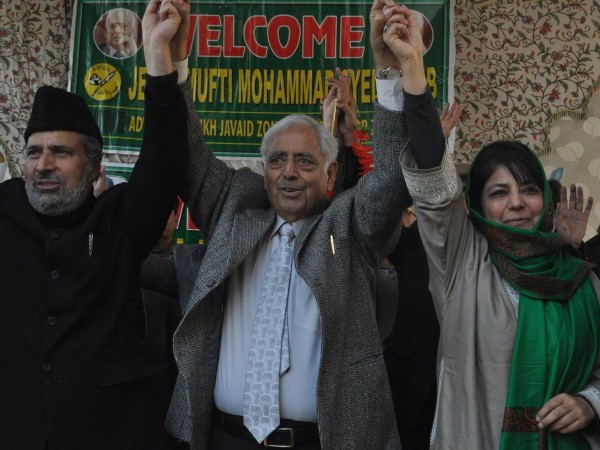 People's Democratic Party (PDP) leader Mufti Mohammad Sayeed on Sunday met Prime Minister Narendra Modi in Delhi in order to put an end to the deadlock over Jammu & Kashmir's government formation. It was reported earlier that the deadlock may end soon after internal sources informed that both PDP and BJP have neared an agreement.
According to PTI, the PDP has asked for certain guarantees from BJP related to some prime issues before the two parties come together to form an allied government in Jammu & Kashmir and end the political standstill that has prevailed in the state since the declaration of the election results on 24 December, 2014.
PDP had emerged as the single largest party with 28 seats followed by BJP with 25 seats.
Formation of government in J&K is an urgent need of the hour keeping in mind the upcoming Rajya Sabha bypolls which will decide the fate of the opposition leader of the Congress party Ghulam Nabi Azad, who is presently serving as the leader of opposition in the Upper House.
The state has been under Governor's rule since 8 January, a day after former Chief Minister Omar Abdullah was relieved of his duties as the caretaker chief minister.
However, according to The Times of India, the deadlock will come to an end soon and a formal dialogue could followed as the senior members of both the PDP and the BJP are in constant touch at an informal level.
Reacting to this, PDP spokesman Nayeem Akhtar told the daily that though the informal dialogue was on, no formal discussion has been though about yet. He also added that the PDP by no means would compromise the region's goals and objectives.