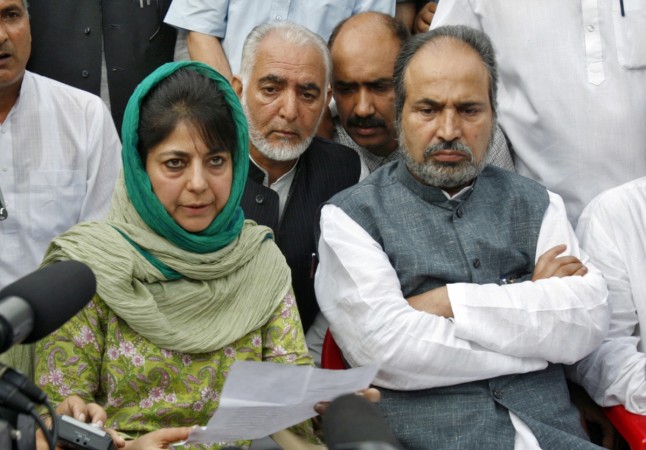 Brushing aside reports of their differences, former allies Bharatiya Janata Party (BJP) and Peoples Democratic Party (PDP) will jointly meet the J&K Governor, N N Vohra, March 26 to stake claim for forming the government in the state, the Press Trust of India reported.
The PDP March 24 unanimously nominated Mehbooba Mufti as the party's chief ministerial candidate. Mufti, the 56-year-old party chief who is a member of parliament from the Anantnag constituency of South Kashmir, is poised to become the first woman chief minister of the state.
A BJP legislature party meet held March 25 in Jammu nominated party leader Nirmal Singh as the deputy chief ministerial candidate of the state. Singh earlier held the same position when Mufti Mohammad Sayeed was the chief minister of the state. Sayeed passed away Jan.7, 2016, after which the state was put under the governor's rule.
PDP has 27 MLAs while the BJP has 25 MLAs in the 87-member Legislative Assembly. The PTI quoted sources as saying that Mufti would hand over to the governor the letter staking claim to government formation and Singh would hand over the letter from the BJP, which supports the PDP claim.
J&K governor had called upon both the presidents of the PDP and the BJP Saturday for consultations on government formation in the state. Both the parties said there were no differences between them over the distribution of portfolios and the government would be formed on the same lines as under former chief minister Mufti Mohammad Sayeed.
The PDP had reportedly demanded assurance from the BJP on implementation of the confidence building measures (CBMs) which were a part of the Agenda of Alliance when the BJP-PDP government was formed last year. This led to the delay in government formation.
However, Jitendra Singh, BJP's national general secretary and minister of state in the Prime Minister's Office, said there were no differences between the coalition partners. "There was never a breakdown in the coalition between BJP and PDP. I think this is the continuation of the process which started about a year back," Singh was quoted by the PTI as saying.