Beijing Olympic gold medal-winning doubles specialist Lee Yong Dae starred for Mumbai Rockets as they defeated Delhi Dashers 4-1 in a Premier Badminton League season three tie in Guwahati on Monday, December 25.
Yong Dae and his men's doubles partner Tan Boon Heong drew on their vast experience to down the Russian pair of Ivan Sozonov & Vladimir Ivanov 14-15, 15-14, 15-10 in the opening Men's Doubles match.
In an intense battle between near-equals, Yong Dae and Boon Heong struggled against the towering 6 foot 6 inch presence of Ivanov. They failed to ravel his booming smashes and lost the opening game 14-15 only to make a strong comeback and win a thrilling men's doubles rubber.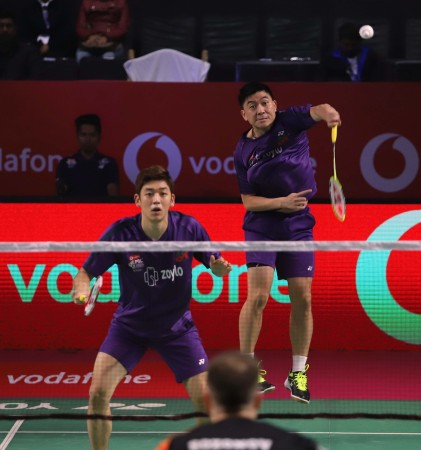 Meanwhile, rising Indian shuttler Sameer Verma celebrated Christmas with a grand victory, giving Rockets a valuable point against Delhi Dashers' trump player Wong Wing Ki Vincent.
Sameer outplayed the the higher-ranked Vincent from Hong Kong 15-11, 15-11 in a Men's Singles' encounter to not only fetch a second point for his team but also pushed the Delhi team into negative territory.
World No. 6 Sung Ji Hyun of South Korea, however, brought Dashers back in the tie by overcoming Beiwen Zhang of the USA 12-15, 15-14, 15-9 in the women's singles match. She showed her class as she came back from a game down and a massive scare in the second to win the first point for the Dashers.
China's Tian Houwei gave the Dashers more hope by outclassing Son Wan Ho in the second men's singles rubber of the day. The world number 22 came back from behind to beat the higher-ranked South Korean 12-15, 15-14, 15-9.
However, Yong Dae came back to seal the tie for Mumbai by winning the mixed doubles rubber with Gabriela Stoeva. The Korean-Bulgarian pair decimated India's Arathi Sunil and Pranaav Chopra in straight games.
RESULTS
Mumbai Rockets vs Delhi Dashers
Men's Doubles: Lee Yong Dae & Tan Boon Heong bt Ivan Sozonov & Ivanov Vladimir 14-15, 15-14, 15-10;

Men's Singles: Sameer Verma bt Wing Ki Wing Vincent (Trump match) 15-11, 15-11;

Women's Singles: Beiwen Zhang lost to Sung Ji Hyun 15-12, 14-15, 9-15

Men's Singles 2: Tian Houwei vs Son Wan Ho: 13-15, 15-13, 15-9

Mixed Doubles: Arathi Sunil & Pranaav Chopra vs Gabriela Stoeva & Lee Yong Dae 11-15, 9-15