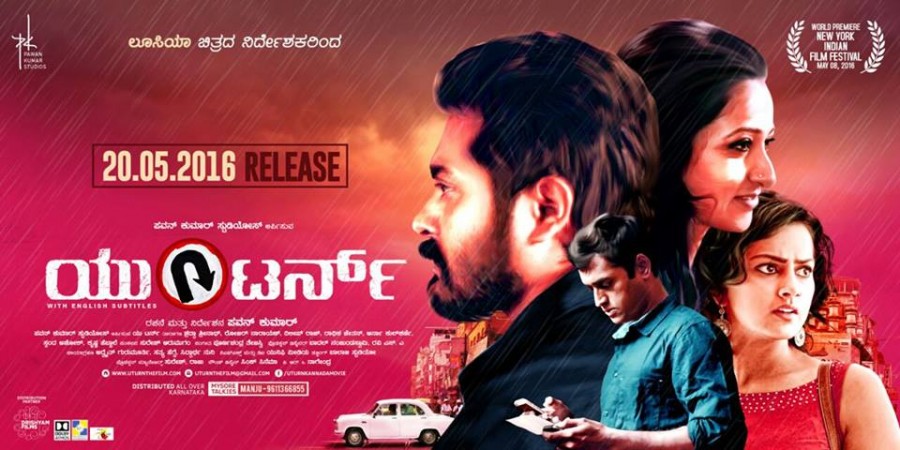 Pawan Kumar's "U Turn" is enjoying a successful run in theatres. The Kannada movie was released in a few foreign countries, including the U.S., on May 20. Now, it is all set to hit the screens in Australia.
Director Pawan Kumar revealed the news via Facebook. He wrote, "Worldwide release and now towards 25 days. Very soon in Australia. Rerelease in UK and USA. Got to thank the audience and my Distributors - Mysore Talkies (Jack Manju) for Karnataka region. Shiladitya Bora (Drishyam Films) for Pan India.. we are continuing 4th week in Mayajal in Chennai... Ravi Kashyap and his team across the globe for International release. [sic]"
It may be recalled that recently, Puneeth Rajkumar's "Chakravyuha" was also released in Australia.
The director also recalled that he started penning the script last year around the same time. Pawan Kumar posted, "Looking back, it was around the same time last year when I started thinking of this script. And everyday one new person joined the team. The team gave me the confidence to get to this day. Hope I stay blessed to have this wonderful people with me for many more projects to come. [sic]"
"U Turn" had opened to mixed reviews from the critics, who had given thumbs up for the first half, while expressing their unhappiness over the climax. Many had declared that the latest venture was no match to his "Lucia," which starred Sathish Ninasam and Sruthi Hariharan.
Nonetheless, there words have not impacted "U Turn" much as the movie continues to pull the viewers to theatres in big numbers, especially during weekends when the Kannada film is running into packed houses in Bengaluru and a few other regions.
The movie has performed well at the U.S. box office, where it has raked in Rs. 32.75 lakh.