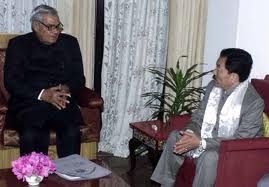 Pawan Kumar Chamling was on 21 May sworn-in as the Chief Minister of Sikkim for the fifth consecutive term. He has already completed two decades as the CM of Sikkim and this will be his 21st year in the post. He is the founder and president of Sikkim Democratic Front (SDF) party.
Having completed 20 years in office as the Sikkim CM, Chamling is on his way to break the record of late Communist leader Jyoti Basu. Basu served as the West Bengal's Chief Minister for 23 years, the longest period an Indian Chief Minister has served his state so far.
The State Governor Shriniwas Patil administered the oath of office to Chamling and 11 of his minister colleagues in Raj Bhavan.
The 63-year-old Chamling, who is in power since 12 December, 1994, comes from the grassroots. A contractor in his village, Yangang, people recognized his good work and elected him as president of Yangang Gram Panchayat in 1982.
Three years later, he got a ticket from Sikkim Sangram Parishad (SSP) to contest Assembly elections and became an MLA. He also got a place in the Nar Bahadur Bhandari's cabinet in the state. In 1989, he was elected from Damthang Assembly constituency with a vast majority of 98 per cent of votes.
He called the Bhandari government "autocratic" in 1992 and separated from the leader to start his own party SDF. In 1994 elections, he managed to secure a majority in the State Assembly. Since then Chamling had been on a winning streak. His party won the State Assembly polls in 2004, 2009 and the latest in 2014 also.
Chamling is also a writer, who writes under the pen name of Pawan Chamling Kiran. He has written books in Nepali, English, and Hindi. The Chief Minister is also publishing a monthly called Nirman from his village/hometown, Yangang.
As a publisher, so far, Chamling has published 100 books including his own works as well as of other authors.