When it comes to actor-turned-politician Pawan Kalyan, it is his three marriages that always grab the attention irrespective of the context. In recent times, his opposition party in Andhra Pradesh has been focusing on Pawan Kalyan's marriages in almost all the public meetings they hold. This topic of debate has offended not just Pawan Kalyan, but all his fans across the Telugu states. The topic is so sensitive and controversial that it even made it to a talk show.
Unstoppable With NBK, hosted by Nandamuri Balakrishna is one of the most talked about and watched shows in the country right now. In the second season of the show, many celebrities have taken part and opened up about a lot of controversial stuff about them. In the recent most episode which was aired on Friday, it is none other than PowerStar Pawan Kalyan took part. This episode has been one of the much-anticipated ones to date and has recorded the highest number of views in the history of the talk show the streams on Aha Video.

Balakrishna, always makes sure he asks questions in such a subtle way Nadiad stores in do not get offended. In this episode, he asked Pawan Kalyan about the controversy around his three marriages and why it has become one of the most talked about things in recent times when it comes to politics.
Responding to this, Pawan Kalyan said, " There are times when not everything is not under our control. I have indeed had three marriages. But right now I am married only to one woman. My first marriage did not work for various reasons and within a very short period. On the wedding day, I chose to walk out of the marriage. Coming to the second one a lot of things were not working between me and her and there was a lot of imbalance in my personal life. When rapport between two people does not work, it is always a better idea to move out of that relationship rather than suffer. "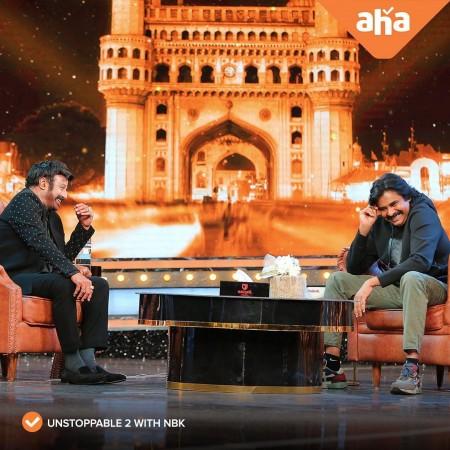 He further added that he divorced them before marrying the other. "I have complete and in-depth knowledge about the personal lives of many politicians. I know all the dirty things they do. But every time I get thought of making their secrets public, I think about the women in their families. It is my ethics that is not making me go after them, " he added.
On the work front, Pawan Kalyan is busy wrapping up the shoot of his next film Hari Hara Veera Mallu. After the completion of this film, he will join the sets of Sujeeth directorial.