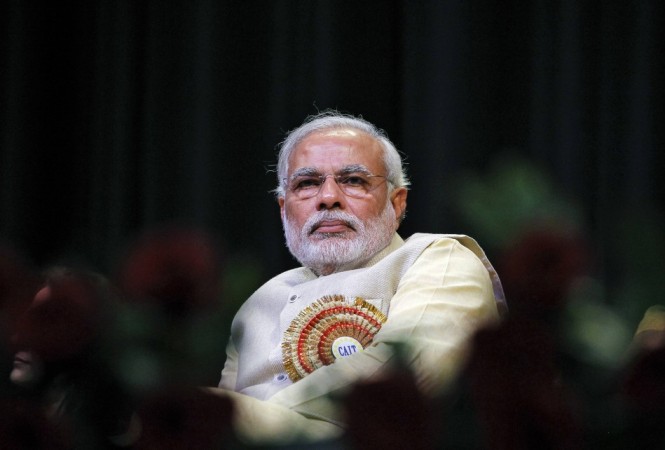 Bharatiya Janata Party's (BJP) prime ministerial candidate Narendra Modi will be addressing four public meetings in Andhra Pradesh on Tuesday (22 April).
Modi will address the "Bharat Vijay' rallies in Nizamabad, Karimnagar and Mahabubnagar on Tuesday afternoon. He will also address the crowd that will be gathered at the Lal Bahadur Stadium (L.B. Stadium) on Tuesday evening.
Timings
Nizamabad - 2.00 p.m.
Karimnagar - 3.15 p.m.
Mahbubnagar - 5.00 p.m.
Hyderabad (LB Stadium) - 6.15 p.m. [courtesy Narendra Modi's official website]
BJP's PM nominee will be sharing the dais along with Chandrababu Naidu, chief of Telugu Desam Party (TDP), which is the alliance partner of BJP in the state, and Telugu actor and Jana Sena party chief Pawan Kalyan, at the Hyderabad rally.
Besides Modi and Chandrababu Naidu, Kalyan is expected to address the public at the rally.
Recently, the actor-cum-politician and his political outfit Jana Sena pledged support to Narendra Modi in the upcoming general elections.
Where to watch "Bharat Vijay" Rallies Live online
The Bharat Vijay rallies will be live streamed online.
Tv9 channel will be showing the rallies live online. To watch the rally at the L.B. Stadium in Hyderabad, click HERE. BJP will also be live streaming it online and to watch it, click HERE.
For live streaming of Mahbubnagar rally, click HERE or HERE.
For live streaming of Nizamabad rally, click HERE or HERE
For live streaming of Karimnagar rally, click HERE.
Lok Sabha Polls 2014: Andhra Pradesh
Andhra Pradesh will witness two-phase elections this year.
Telangana region of united Andhra Pradesh will go to polls on 30 April, while the Seemandhra region will face elections on 7 May.
(ED:VS)