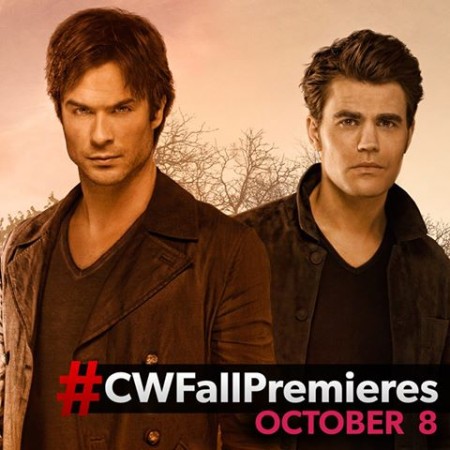 Season 7 of "The Vampire Diaries" is going to be different from its previous seasons, especially as Nina Dobrev's Elena Gilbert is no longer a part of the story, which started out with her as one of the central characters.
Since season 1, the focus of The CW vampire drama has been Elena and her respective relationships with the Salvatore brothers, Damon and Stefan. But in Season 7, fans will get to see more of Stefan's love-life as he tries to win over Caroline's affection.
Does that mean Elena is not an important person in Stefan's life?
"Stefan doesn't give a sh*t because he cares about her," actor Paul said at San Diego Comic-Con, pointing towards Candice Accola, who plays Caroline. "He's obsessed with her, he's obsessed with Caroline, but she ain't havin' none of that. He's throwing himself at her and she's like, 'back off, son!'"
Another person who doesn't care about Elena is Michael Malarkey's Enzo, who has enough and more problems now that Mama Salvatore is back in Mystic Falls along with her travelling companions.
"She's still a character on the show, she's still talked about a lot," Malarkey told TVLine at Comic-Con. "Obviously there's a lot of characters that are not over it. Enzo doesn't give a sh-t."
But Damon is definitely going to have a hard time forgetting Elena, and according to plot spoilers, Kat Graham's Bonnie too will have a hard time getting over the sacrifice Elena made.
As for the much-hyped Bonnie-Damon romance, executive producer Caroline Dries teased that the witch will definitely get a love interest this season.
"Bonnie is going to have her own love interest this year — and it's not going to be Damon," Dries said.
"I've pitched female witches," Graham added. I've pitched Bonnie having some discoveries, sexually, about herself. I've pitched everything. We'll see what happened."
"The Vampire Diaries" season 7 will return to The CW in October.