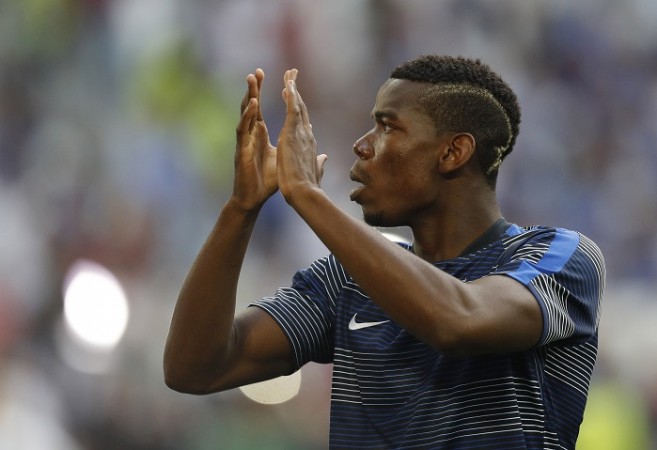 The latest instalment in the Paul Pogba to Manchester United saga was released on Tuesday, when the English Premier League club had their official opening bid – a world record offer – turned down by Juventus. The Serie A side do not want to sell their prime asset, but if they must, it will only be for a fee in excess of £100 million.
Manchester United's opening offer for Pogba was one that was worth £100m, including add-ons, with an up front fee of around £87m.
That might seem like a ridiculous amount in itself, but Juventus, according to The Guardian, will hold out for £100m up front with a further £8m in add-ons.
If Manchester United are already willing to pay a fee which could add up, eventually, to £100m, it is difficult to believe that they will baulk at a figure that will only exceed their opening bid by £8m. Money is not a problem for the money-spinning-everyday-there-is-a-new-business-deal club, and if Pogba is willing to move, it does look like a matter of time before the transfer is complete.
According to the report, Pogba, who has been tipped for a move to Real Madrid as well, is open to re-signing for Manchester United, having left the club on a free transfer to Juventus in 2012. The France international went on to become one of the best midfielders in the game, and with Jose Mourinho now taking over at Old Trafford, there is increased expectations of a proper title tilt for the first time since Sir Alex Ferguson's retirement.
To do that, Mourinho had identified signing four players for four positions, and having completed three of those, only the central midfield option remains. Pogba, considering he spent a fair amount of time at Manchester United, should not have too many problems adapting to the Premier League, which will, again, be seen as a positive.
The three summer signings so far – Eric Bailly, Henrikh Mkhitaryan and Zlatan Ibrahimovic – are all yet to play in England, so they might take a little more time to settle, meaning if Manchester United can make the fourth recruit someone with Premier League experience, it will be seen as a big bonus by Mourinho.
Pogba, whose agent Mino Raiola, who also brought Mkhitaryan and Ibrahimovic to Manchester United, has reportedly agreed on five-year contract worth £250,000 for his client, did not have the greatest of times in Euro 2016 for France, struggling to make an impact initially, before seeing his attacking instincts curbed by the fact that he had to play deep owing to a formation change.
If Pogba is worth a world record fee or not is something that will remain a topic of debate for a while, but the fact that Manchester United have the money to spend, the player is willing to move and Juventus have reportedly set a transfer amount points to the fact that the player could soon be moving out of Italy.