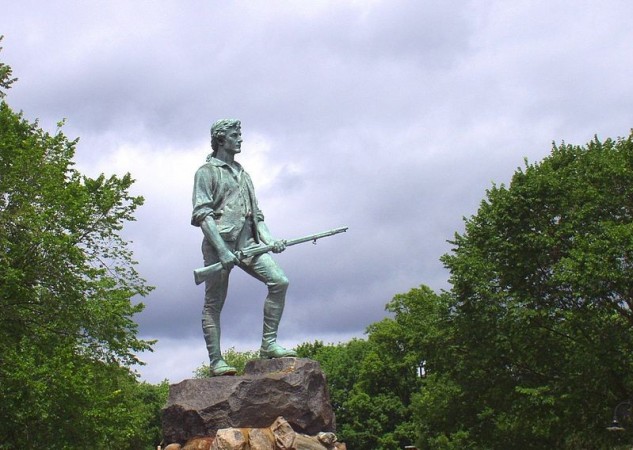 Monday, 21April is Patriot's Day, which commemorates the battles of Lexington and Concord fought near Boston in 1775. The day is annually held on the third Monday of April and is celebrated as the first and major step in securing the independence of the United States.
Here are the 5 most important things to know about the day:
1. Significance
The American Revolution is considered to be the most defining moment in world history and April 19, 1775 (Third Monday of April) is when it all began. Patriot's day is essentially the day when the American War of Independence started and is considered to be an important precedent to the country's independence.
2. History
Prior to 1775, the area that is now the eastern part of the United States was mainly British colony controlled by the United Kingdom. The American War of Independence, also known as the American Revolutionary War is considered to be a major step towards achieving Unites States' independence. The first battles in this war were fought in the area of Lexington and Concord, near Boston, Massachusetts, on April 19, 1775. Hence, third Monday in April or the Patriot's Day is considered a symbolic representation for the emerging independence of the new country.
3. Who were Minutemen?
Minutemen were part-time soldiers, and members of well-prepared militia companies. Selected from the American colonial partisan militia during the American Revolutionary War, they are known for providing a highly mobile, rapidly deployed force that had the ability to quickly respond to any threats - hence the name 'Minutemen' is supposed to describe their ability and might.
4. Paul Revere
Paul Revere is among the most respected patriots remembered on patriot's Day. The American silversmith is known for warning the Lexington Minutemen of the approaching British troops. He is memorialized in Henry Wadsworth Longfellow's poem 'Paul Revere's Ride' where he started describing Revere as:
Listen my children and you shall hear
Of the midnight ride of Paul Revere,
On the eighteenth of April, in Seventy-five;
Hardly a man is now alive
Who remembers that famous day and year.
5. How do People Celebrate Patriot's Day?
Patriot's Day 2014 is taking an added significance as the running of the Boston Marathon is taking place a year after the bombings that killed three people and injured more than 250. The Boston Marathon is always held on Patriot's Day.
In the area around Lexington and Concord, re-enactments of the battles in 1775 and events leading up to the battles, are held. People will have the opportunity to ring the bell that warned the local troop about the approaching British troops.
Patriot's day is public holiday in Massachusetts and Maine, which are part of the Massachusetts Bay Colony. In the State of Wisconsin, April 19 is a special day for schools.
(ED:VS)