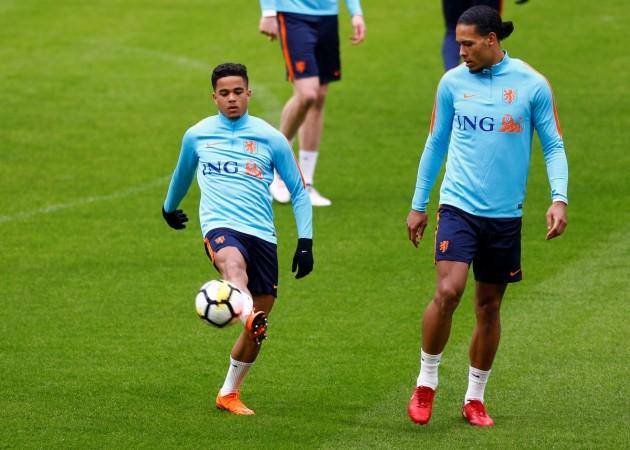 Former Barcelona striker Patrick Kluivert has urged his son, Justin, to follow in his footsteps and join the Catalan giants if the opportunity arises.
Kluivert Jr, 18, has scored seven goals in 24 league appearances for Ajax this season and was an unused substitute in the Netherlands' 1-0 defeat to England in Amsterdam on March 23.
The young striker has been linked with a move to Manchester United ever since he was caught on camera having a lengthy conversation with Red Devils boss Jose Mourinho at the conclusion of last season's Europa League final.
Kluivert Sr said he would prefer to see his son play for his former club Barcelona.
"I'm very proud of him. He's doing very good at Ajax," Kluivert was quoted as saying by the Sun.
"He's now a first XI player. If he's playing like this in the long-term, he could be one important player in the future.
"Of course, I prefer that he goes to Barcelona but in football everything can happen.
"He's an adult, he can make his own decisions but he's already said it's a dream for him to play for Barcelona. But you never know in football," he said.
Kluivert Jr was an unused substitute for Ajax when they lost the Europa League final 2-0 to United in Stockholm last May.
Explaining his conversation with Mourinho following that match, Kluivert Jr told FourFourTwo: "He said it was nice to see me again after such a long time, because he had known me when I was a baby. And he said it was nice to see that I was doing well.
"My highlight has been the Europa League final, even though I didn't play. Such an occasion is unique and to be there was so special. You won't experience that often."
Meanwhile, Netherlands head coach Ronald Koeman has advised Kluivert to stay and develop his game at Ajax for a few more years instead of making a big-money move to Premier League.
"I spoke to him and he is in talks with Ajax about his contract," the former Everton boss said.
He added: "I think the best [thing] is for him to stay in Holland because he is only 18 and in my opinion, that is too quick to move to the Premier League."