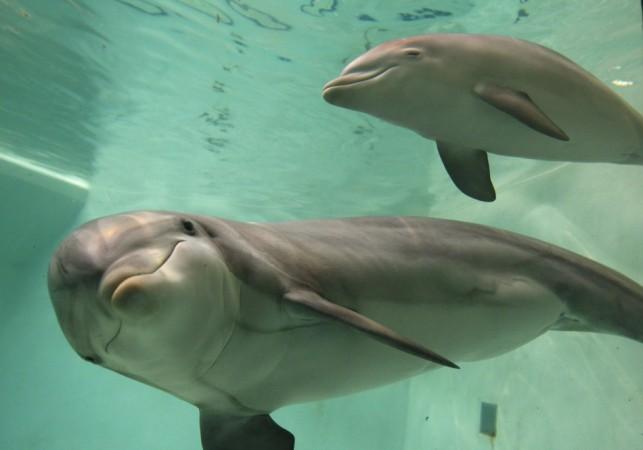 India's Bihar state is planning to set up Asia's first Research Centre dedicated to aquatic mammals in Patna. The project mainly aims at strengthening conservation efforts to save the endangered mammal.
An official in the chief minister's office told the Times of India that the Gangetic dolphin research centre would be set up in Patna, where dozens of dolphins can still be seen in the stretch of the river Ganga near the state capital.
The idea of a Dolphin Centre was first proposed by the popularly known Dolphin Man R. K. Sinha, an expert on Gangetic river dolphins and chairperson of the working group for dolphin conservation set up by the central government. The country's apex planning commission's suggestions to establish dolphin research centre on the banks of Ganga near Patna University, subsequently received "in principle" approval by the state government.
The recent findings show that there are only about 2,000 Gangetic river dolphins left in India , out of which nearly 1,000 dolphins are in the rivers of Bihar. Asia's fourth largest dolphin sanctuary, Vikramshila Gangetic Dolphin Sanctuary, is also located in the state. It is spread over 55-km area in the river Ganga between Sultanganj and Kahalgaon.
Sinha told Telegraph, Planning Commission deputy chairman Montek Singh Ahluwalia visited Ganga near Gandhi Sethu, to watch the dolphins on February 18this year. Later he conceded to move the proposal forward offering financial help to set up the centre. When approached Chief Minister Nitish Kumar, he approved the proposal and suggested the planning secretary to proceed with the project.
'A final decision in this regard is likely soon," said Sinha.
Gopal Sharma, a scientist with Zoological Survey of India, told Telegraph, "The two permanent habitats of Gangetic dolphins around Patna are the confluence of Ganga and Gandak near Gandhi Setu and near the pontoon bridge at Danapur. Around 30 dolphins can be seen at these two locations. Patna University is located between these two points. It is an ideal location for setting up such a research centre."
The other schemes of the centre include conducting research activities related to biological aspects and also census of dolphins in all rivers.
The Gangetic river dolphins, one of the four fresh water dolphin species in the world, are facing possible extinction as the poachers kill them for oil, which is used as aphrodisiac. The International Union for Conservation of Nature (IUCN) has already declared them as endangered species.