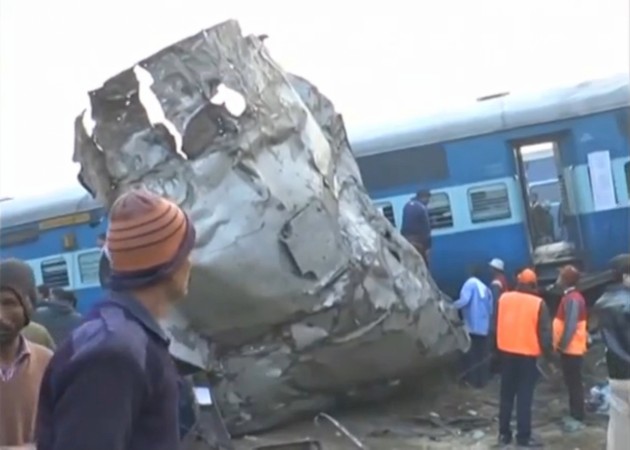 Atleast 11 trains have been diverted and five trains have been cancelled so far following the Patna-Indore express derail accident near Pukharayan (Kanpur, UP) that has left 95 people dead and more than 150 injured.
Following the accident, Jhansi-Lucknow Intercity, Jhansi-Kanpur passenger train, Gevra Road-Raipu passenger train, Durg Sarnath Express and Barauni-Gwalior Mail trains have been cancelled, ANI tweeted.
The trains, which have been diverted include, Lokmanya Tilak T (12542), Rapti Sagar Express (12522), Pushpak Express (12534), Lucknow Superfast Express (12107), Ahmedabad Sabarmati Express (19167), Kushinagar Express (11015), Kushinagar Gorakhpur Express (11016), Lucknow- Pune Superfast Express (12104) and Rapti Sagar Superfast Express (12511).
The incident took place at around 3 am on early Sunday morning. 14 coaches of the train derailed near Kanpur. Doctors and senior railway officials rushed to the spot, Northern Central Railways spokesperson Vijay Kumar said.
Special buses and food supplies have been arranged for victims, various helplines numbers have been issued and medical team is at the location, where search and rescue is currently going on.
While other passengers have been provided with buses to complete the rest of their journey, the actual cause of the derailment is not known immediately.
Following are the helpline numbers.
Patna-Indore express train derailed: Indian Railways issues helpline numbers for assistance. pic.twitter.com/ai0I6pysSe

— ANI UP (@ANINewsUP) November 20, 2016
Patna-Indore exp train derailed: Jhansi-Lucknow Intercity,Jhansi-Kanpur passenger train cancelled;train no 12542,12522,12541,12534 diverted.

— ANI UP (@ANINewsUP) November 20, 2016
Patna-Indore express train derailment: Train numbers 12107, 11124, 19167, 11015, 11016, 12104, 12511 diverted; Train no 11123 cancelled. — ANI UP (@ANINewsUP) November 20, 2016
Gevra Road- Raipur passenger train, Durg Sarnath Express cancelled midway after coaches of a goods train derailed b/w Siliyari & Mandhar

— ANI (@ANI_news) November 20, 2016