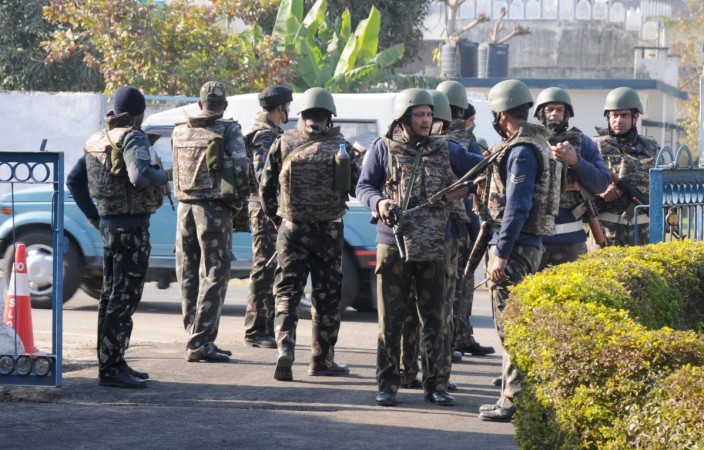 The Parliamentary panel on Home Affairs reportedly rapped the central government for seeking Pakistan's help for the investigation of the Jan. 2 attack on the Indian Air Force base in Pathankot, Punjab, and allowing its investigation team to visit the airbase for further probe.
A 30-member panel of Member of Parliaments — nine Rajya Sabha MPs and 21 Lok Sabha MPs —including 10 from BJP, five from Congress, three from AIADMK, two each from TMC and BJD, and one each from CPI, CPM, Shiv Sena, SP, NCP, SAD, TDP and TRS, visited Pathankot airbase on Feb. 11.
The committee members said it would like to be apprised of "what made the Government of India seek help from Pakistan into investigation of this terror attack and invite a Joint Investigation Team (JIT) from Pakistan to India," the Indian Express reported.
Islamabad in March sent its Joint Investigation Team to examine the evidence provided by India that reportedly links Pakistan-based militant group Jaish-e-Mohammed (JeM) to the attack, in which seven security personnel were killed. India has claimed that JeM chief Masood Azhar conspired the attack.
The panel also slammed the security agencies, which it said was ill-prepared as it failed to anticipate the threat in advance despite "concrete and credible intelligence inputs received from abducted and released Pathankot's Superintendent of Police and his friend," and "interception of communication between terrorists and their handlers... disclosing they were planning an attack on a defence establishment."
The militants kidnapped Gurdaspur SP Salwinder Singh, his cook and his friend Rajesh Verma on the intervening night of Dec. 31 and Jan. 1, according to Press Trust of India. The kidnappers set Singh and the cook free but slit Verma's throat. The Pathankot airbase was attacked on Jan. 2.
It further raised suspicion on the role of the Punjab police for taking too long to reach the conclusion that the abduction of the SP "was not just a criminal robbery but it was going to be a serious national security threat."
The panel suggested that the National Investigation Agency must examine the abduction of the SP and why the militants (abductors) freed them.
It raised serious concerns over India's counter-terror security establishment and recommended that the "Government of India should pay attention to effectively sealing the border through enhanced patrolling, fencing, flood-lighting, etc."