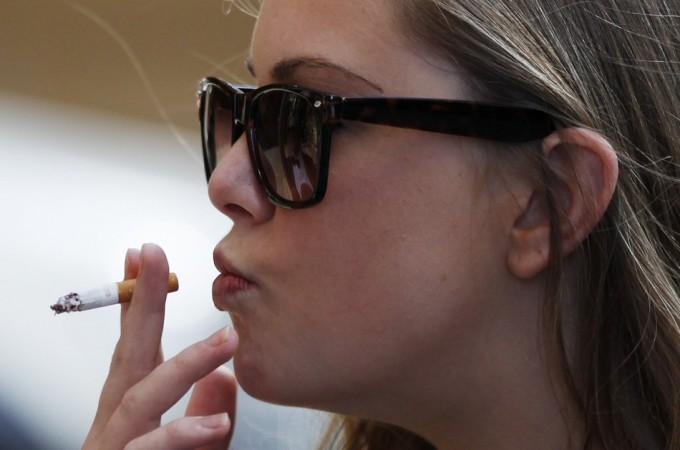 Stay away from smokers to remain in shape. A new study says that regular exposure to second-hand smoke or passive smoking can increase the risk of putting on unnecessary fat.
As part of their investigation, researchers from the Brigham Young University in US monitored a group of mice exposed to second-hand smoke and found that the smoke exposure made the animals fat.
While trying to find out the root cause, they noticed that smoke from cigarettes activated ceramide, a tiny lipid which further affected the normal functioning of mitochondria, parts of the cells that are responsible for converting sugar and oxygen into energy required for proper functioning of the cells. This further disturbed the normal functioning of the cells and affected its ability to respond to insulin, the authors said. Insulin resistance is a condition that has long been known to increase the risk of gaining excess weight.
"The lungs provide a vast interface with our environment and this research shows that a response to involuntary smoking leads to altering systemic sensitivity to insulin," co-author of the study Professor Paul Reynolds said, in a news release. "Once someone becomes insulin resistant, their body needs more insulin. And any time you have insulin go up, you have fat being made in the body."
Interestingly, the negative effects of smoke exposure disappeared when the researchers blocked the activity of ceramide. The rodents that received myriocin, a ceramide blocker, thus continued to remain in a healthy weight even after their exposure to the cigarette smoke.
Encouraged by their findings, researchers are now planning to develop an effective ceramide inhibitor treatment for people who get regularly exposed to second-hand smoking. "The idea that there might be some therapy we could give to innocent bystanders to help protect them from the consequences of being raised in a home with a smoker is quite gratifying," lead author of the study Benjamin Bikman, from the Brigham Young University in Utah, said.
The study has been published in the American Journal of Physiology: Endocrinology and Metabolism.
Second-hand smoke contains more than 4,000 toxic chemicals and breathing smoke-filled air has been linked to sudden infant death syndrome (SIDS), asthma, meningitis, cough, cold and middle ear diseases, invasive meningococcal disease and even cancer.