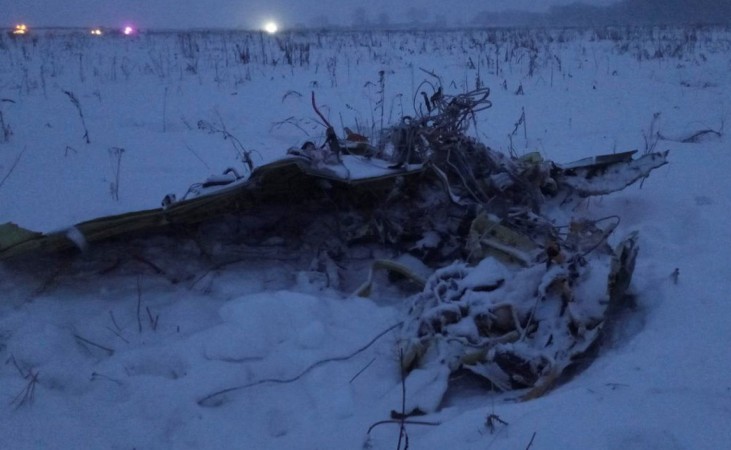 Investigators have said that the debris of the plane have been spread over 1 km
One of the flight recorders has now been recovered
The plane reportedly did not make any emergency call.
"Sixty-five passengers and six crew members were on board, and all of them died," Russia's office of transport investigations said in a statement.
Several parts of the jet have been found in the Ramenskoye area, about 25 miles from the airport, according to REN-TV.
"The President ordered the government to create a task force [to investigate] the air accident in the Moscow region," Peskov added. He also said that Putin has "directed the agencies concerned to carry out necessary search and rescue operations."
К ликвидации последствий крушения самолета Ан-148 привлечены силы и средства общей численностью более 150 человек и свыше 20 единиц техники.
Приведены в готовность силы центра «Лидер», отряда Центроспас и Ногинского спасательного центра, а также вертолет Ми-8 Жуковского АСЦ МЧС. pic.twitter.com/EPy83gEz9B

— МЧС России (@MchsRussia) February 11, 2018
Russian spokesman Dmitry Peskov told RT that Putin "offers his deep condolences to those who lost their loved ones in this accident."
An investigation into Saratov Airlines crash has now been opened
President Vladimir Putin has offered his condolences
Rescue operations are on and two bodies have reportedly been found
#Russia plane crash: @BBCNews reports Saratov Airlines was banned from operating int'l flights in 2015 when inspectors found someone other than flight crew in cockpit. Resumed int'l charter flights in 2016 after policy changes. Mainly domestic flights, also to Armenia & Georgia.

— Ben Tavener (@BenTavener) February 11, 2018
Russian Transport Minister Maksim Sokolov is flying to the site
While the exact cause of the crash is yet to be revealed, it is being said that the mid-air disaster took place due to engine failure. Weather condition is also speculated to be an issue.
The Russian media reported that plane debris could be seen scattered on a field covered by snow
Emergency officials couldn't reach the crash site by road and had to go on foot, reported BBC.
"The plane crashed near the village of Argunovo. Passengers, as well as the crew, could hardly survive," emergency services source told Russian news agency Interfax
Plane at 6,400 metres
The plane is said to have 65 passengers and 6 crew members on board.
A Russian passenger plane has reportedly crashed after taking off from Moscow and all the 71 people onboard are feared dead.
The An-148 jet operated by Saratov Airlines was en route to Orsk when it vanished from the radar about 10 minutes after taking off, reported TASS.
Russian plane crash.

- Antonov An-148 operated by Saratov Airlines

- Departed from Moscow Domodedovo Airport to the city of Orsk in southern Russia

- Reached an altitude of 6,400 feet and then dropped from radar, crashing near Moscow

- Carrying 71 people, who are feared dead

— The Observer (@observerindex) February 11, 2018