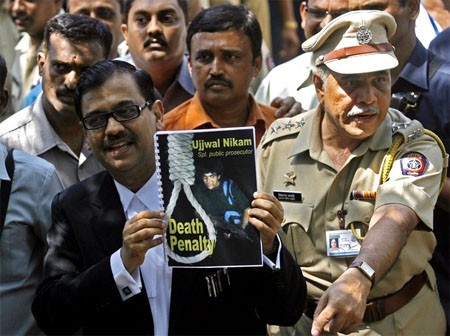 The political parties in the country on Wednesday welcomed the Supreme Court verdict on death sentence of 26/11 Mumbai terror attack convict Mohammed Ajmal Amir Kasab.The parties also demanded the quick execution of the verdict.
Reacting to the Supreme Court verdict on Kasab's appeal against his sentence, Congress General Secretary Digvijay Singh said to PTI "...Now, he should be given complete sentence quickly. Punishment should be executed quickly."
Kasab's plea was rejected by a bench of Justice Aftab Alam and Justice C K Prasad earlier on Wednesday. The apex court upheld the death sentence of the gunman of 26/11 Mumbai attack for waging war against the country.
Maharashtra Home Minister R R Patil also welcomed the pronouncement of the court saying that "We welcome the apex court verdict and will ask the Centre to ensure that it is implemented at the earliest".
On November 26, 2008, Kasab along with nine other Pakistani terrorists landed in south Mumbai and gunned down 164 people including several foreigners, while leaving at least 308 injured.
NCP Maharashtra state President Madhukar Pichad said to CNN IBN "The death sentence is the appropriate punishment for the crime committed by Kasab. It was not an ordinary crime but an attack on our country. The punishment should be executed at the earliest".
"It is established that criminal conspiracy against India was hatched in Pakistan. This is a case where we have further established that this is an attack on soveignity of India. I am satisfied that the punishment to Kasab stays. I welcome this important judgment. This is a strong message to the perpetrators of terrorism," Special Public Prosecutor Ujjwal Nikam, who represented the case in the trial court and high court, told CNN IBN.