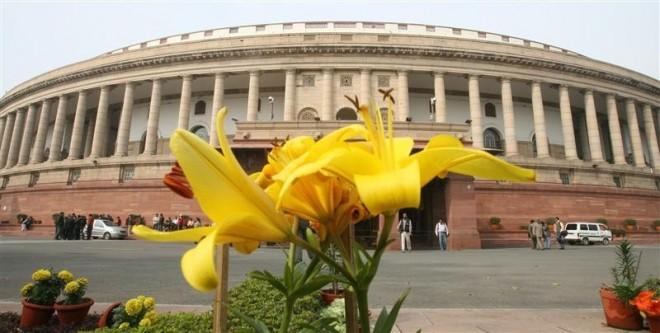 The winter session of the Parliament began on a fiery note on Thursday with Opposition MPs staging protests in both houses over various issues, including FDI in multi-brand retail.
A no-confidence motion, moved in the Lok Sabha by the Trinamool Congress against United Progressive Alliance government, was rejected by the Speaker as the party failed to garner support of 50 MPs, as required.
Both the Lok Sabha and the Rajya Sabha are likely to witness a pandemonium in the coming days as the government is set to introduce some controversial bills in the current session. It has outlined a weighty legislative agenda and 25 bills for consideration and passing. A voting on supplementary demands for grants for the current fiscal is also on the agenda.
The bills to be taken for legislation include the Lokpal and Lokayuktas Bill, the Constitution (117th Amendment) Bill for reservation to SC/ST in government jobs and the Whistleblowers Protection Bill.
The Insurance Bill, seeking to raise foreign direct investment (FDI) cap in the sector from 26 per cent to 49 per cent, the Banking Laws (Amendment) Bill, the Companies Bill and the Pension Fund Regulatory and the Development Authority Bill are also on the agenda, according to PTI.
The government has outlined several important proposals in insurance, banking and pension sectors and will also present progress reports on some of the ongoing reform programmes. There is an air of scepticism among some analysts who feel that government will encounter many disruptions while trying to push through reforms.
"It is going to be a mixed bag. I think Bills like the Companies Bill, the Competition Bill and the Forward Contract Regulation Act Bill, which are also important in the reforms process, will get passed," said Abheek Barua, chief economist at HDFC Bank, as reported by DNA. "But high-profile Bills like the Land Acquisition Bill won't see the light of day."
"Given the current political uncertainty, it will be difficult to push the controversial Bills like foreign direct investment (FDI) in insurance and pension through, unless some kind of understanding is been reached with the opposition parties," said Sujan Hajra, chief economist at Anand Rathi Securities.
Meanwhile, the government and the opposition have failed to come to an agreement on under which rule the FDI in multi-brand retail should be allowed. The Opposition, which supports the alliance from outside, wants the FDI under a rule that involves voting. The government at best will only accede to a rule "sans vote."