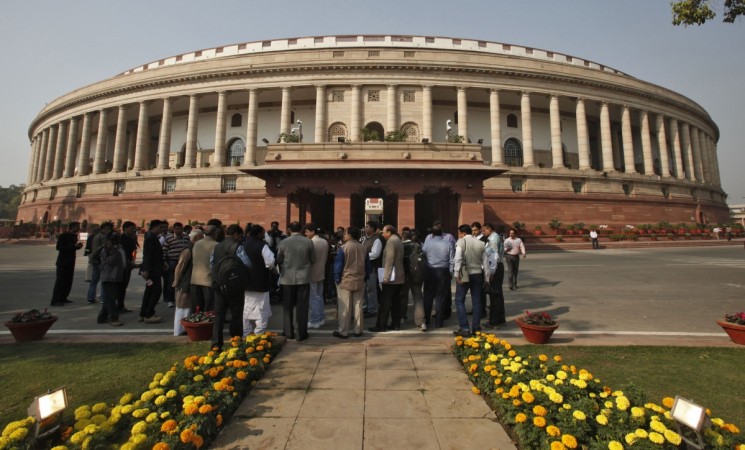 17:33pm Opposition leaders have demanded an apology from PM Narendra Modi for failing to bring back black money within the promised time and making false statements in this regard.
15:20pm Leader of Opposition from Congress Party Mallikarjun Kharge asked the Modi-government to apologise for making false claims on black money.
14:57pm Lok Sabha and Rajya Sabha have begun discussion on bringing back black money stashed in foreign bank accounts.
14:09pm Lok Sabha has passed the Delhi Special Police Establishment (DSPE) (Amendment) Bill, 2014.
In the absence of Leader of Opposition in Parliament, BJP government proposed the amendment Bill to allow leader of the largest opposition party to join the panel to appoint the next CBI chief, as its office comes under the DSPE Act.
13:25pm TMC, SP, Congress and other opposition party members staged walkout in Lok Sabha as Speaker Mahajan extended time for debate on black money to 3pm.
13:15pm Rajya Sabha has been adjourned for 30 minutes over renaming of Hyderabad airport.
12:14pm RS Speaker Hamid Ansari has adjourned the House till 12:30pm.
11:30pm Rajya Sabha Deputy Chairperson PJ Kurien refused to discuss black money immediately, asked opposition to give a notice to debate on the issue and get permission from the Chair.
Parliament is likely to take up black money issue on the third day of its 22-day long winter session, after the opposition parties created chaos in both the Houses and staged walkout in Lok Sabha on Tuesday.
"The government is ready for discussion on the issue in both Houses of Parliament," Minister of State for Parliamentary Affairs Rajiv Pratap Rudy told Press Trust of India.

On Tuesday, opposition parties including Congress, RJD, SP and JD (U) had stalled proceedings in both the Houses demanding discussion over black money. They had gathered in the well of the Lok Sabha holding black umbrellas with "Kala Dhan Waapas Laao (bring back black money)" written on them, forcing LS Speaker Sumitra Mahajan to adjourn the Question Hour.
The ruckus over black money continued throughout the second day of the session, as leaders of other parties joined the Trinamool Congress in its protest. They questioned Modi's promise of bringing back the black money stashed in foreign bank accounts within 100 days.
"The Congress government at least gave black money figures. They [BJP govt] are not even saying how much black money could be stashed abroad. They promised to get back black money within 100 days. It is their sixth month now, where is the money?" SP chief Mulayam Singh Yadav said.
The 2014 winter session will have 22 sittings, where the Center will introduce 37 Bills and table another 19. The session is scheduled to end on 23 December.
LS Speaker has warned TMC MPs against repeating Tuesday's umbrella protest in the House.