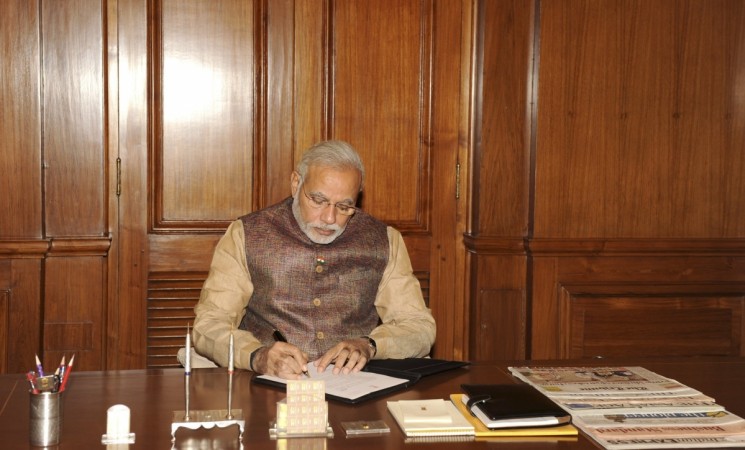 The first session of 16th Lok Sabha on Wednesday, 4 June, lasted for four minutes after mourning the death of Union Rural Development Minister and senior Bharatiya Janata Party (BJP) leader Gopinath Munde, who was killed in a road accident in Delhi on Tuesday.
The session is adjourned till 5 June, and will meet again at 11 am on Thursday, said Protem Speaker Kamal Nath. He read out a brief tribute note on Munde and the members observed silence for two-minutes.
Soon after the members of Lok Sabha assembled, first Secretary General P Sreedharan read out the notification about constituting the 16th Lok Sabha.
Earlier in the day, Kamal Nath took oath as Protem Speaker at Rasthrapati Bhavan. Nath is the senior most member of Lok Sabha from Congress.
Before entering the first session of Parliament, Prime Minister Narendra Modi said that all efforts will be made in the Parliament to fulfill the dreams, hopes and aspirations of common people. He described the Parliament as the temple of democracy.
Modi added that people of the country have elected the 16th Lok Sabha by blessing the public representatives and casting their votes in an unprecedented numbers.
It is the first time that Modi has been elected to the Parliament from country's holy city of Varanasi in Uttar Pradesh. Modi has also won from Vadodara constituency in his home state Gujarat.
The Parliamentary session meets on Thursday and the MPs oath-taking process is likely to be extended till Friday. In the afternoon on Friday, election of Speaker is scheduled.
Senior BJP leader Simitra Mahajan is seen as the front runner for the Speaker's post. If she is elected, then Sumitra will become the second woman speaker in India after Meira Kumar, who was the Speaker of the 15th Lok Sabha.
The joint session of both Lok Sabha and Rajya Sabha will be addressed by President Pranab Mukherjee on Monday, 9 June. On 11 June, the Parliament is likely to be adjourned.
This teme, the 16th Lok Sabha has the highest number of 315 first time members, according to a research firm. Sessions in Rajya Sabha will commence on 9 June.
After 30 years, a single party, BJP has got comfortable majority of 282 seats in Lok Sabha. The NDA alliance government has a total strength of 336 seats in the 543-member Lok Sabha.