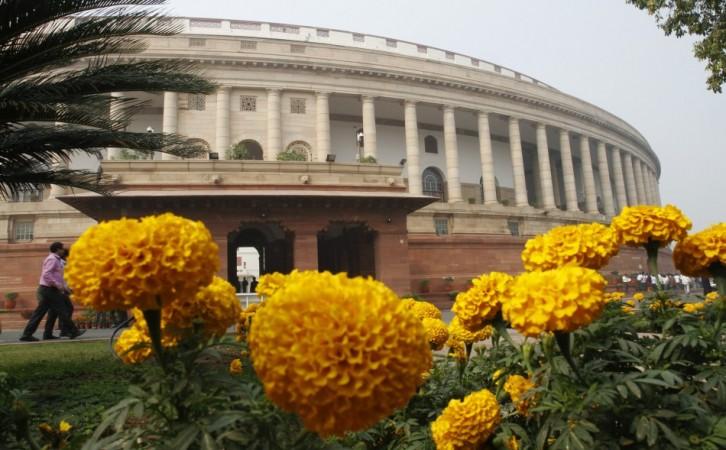 All hell broke lose in the Upper House of the Parliament on Wednesday, with two members of Rajya Sabha getting into a fight when a bill to provide reservation of Scheduled Castes and Scheduled Tribes in promotions in government jobs was tabled.
Bahujan Samaj Party MP Avtar Singh Karimpuri and Samajwadi Party MP Naresh Aggarwal made the Parliament look like a wrestling arena by pushing each other inside the house when the SC/ST Quota Bill was tabled.
Avtar Singh Karimpuri stopped Naresh Aggarwal from going to the Well. Collar grabbing and pushes followed before the MPs present in the house intervened to stop the fight.
Prime Minister Manmohan Singh and Minister of State for Personnel V Narayanasamy were present when the scuffle took place.
The incident happened against the backdrop of the opposition parties stalling the parliament monsoon session for several days, demanding the resignation of the Prime Minister over the coal allocation scam that caused a loss of ₹1860 billion to the exchequer.
The government cleared the Quota Bill at a meeting chaired by Manmohan Singh on Tuesday, facilitating reservation in promotion for Scheduled Castes and Scheduled Tribes in government jobs.
It may be recalled that the Supreme Court on April 28, 2012, upheld the Allahabad High Court ruling against the Uttar Pradesh government's decision to provide reservation in promotion for STs and SCs in government jobs, calling the decision "unconstitutional".
However, the government tabled the bill in the parliament contradicting the ruling of the Supreme Court after a demand from several political parties to give a clear-cut methodology on promotion.
The Union Cabinet decision has been welcomed by most of the parties but the Samajwadi Party is against the bill with chief Mulayam Singh Yadav saying that it's "unconstitutional" and will continue to oppose it.