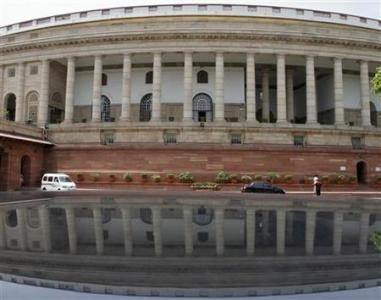 The second part of the Budget Session ended two days ahead of schedule after both Houses of Parliament were adjourned sine die on Wednesday afternoon following Opposition's demand for the resignation of Prime Minister Manmohan Singh, Law Minister Ashwani Kumar and Railway Minister Pawan Bansal over their involvement in corruption scams.
The Bharatiya Janata Party (BJP) disrupted the proceedings of the Budget Session, which re-opened two weeks ago after a break, demanding the PM, law minister and railway minister to step down first before passing the bills tabled in the House.
Lok Sabha speaker Meira Kumar adjourned the Budget Session sine die after BJP members insisted on the resignation of the ministers. A similar scene was witnessed in Rajya Sabha, wherein chairman Hamid Ansari was forced to adjourn the session.
The government could not pass landmark Bills - Food Security Bill and Land Acquisition Bill - following the adjournment. The Congress has slammed the Opposition for disturbing the pro-poor bills.
The BJP had said they would allow Food Security Bill to be passed but only after the PM, Kumar and Bansal resign, to which the Congress disagreed.
The United Progressive Alliance (UPA) government has been hit by series of scams in the last few months, and that too ahead of the Lok Sabha elections next year.
The Opposition party has demanded the PM to resign over irregularities in coal blocks allocation and 2G spectrum scam. Ashwani Kumar has come under attack for scrutinising the Central Bureau of Investigation (CBI) report on coal block allocation, while Bansal has been criticised after his nephew was arrested by the CBI for allegedly accepting a bribe.