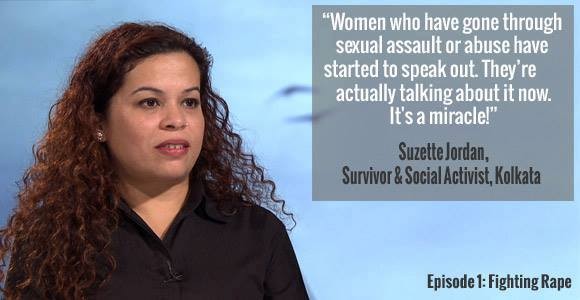 Suzette Jordan, known to the world as the Park Street Rape Victim, breathed her last this morning at a Kolkata hospital. She was admitted three days ago.
Jordan was suffering from meningoencephalitis, a health condition that causes inflammation of meninges and the brain.
The 40-year-old was working on a helpline for victims of sexual and domestic violence, called Survivors for Victims of Social Injustice.
Tired of the stigma of leading the life of a rape victim and concealing her identity, she finally revealed her name to everyone in 2013.
Jordan was a celebrated social activist in Kolkata, who regularly took part in protests and rallies to oppose rapes and other crimes against women, NDTV reported.
Jordan fell prey to a group of men in February 2012 while she was returning home from a nightclub. A man who had befriended her, in the pretext of dropping her home, took her to his vehicle where he along with three other men who were sitting inside the car gang raped her. On the way, a fifth man was picked up who also took part in the assault. The next morning, she was thrown out of the car.
The incident came into light after Jordan reported the crime to the police and addressed reporters.
Chief Minister of West Bengal Mamata Banerjee created controversy after she termed the incident as 'fabricated', which drew massive criticism from all quarters. Trinamool MP Kakoli Ghosh Dastidar added fuel to fire calling her a sex worker and said that the incident was a result of argument between her and a client.
After the incident, Jordan, a mother of two daughters, changed her perspective towards life and began fighting for the rights of rape victims.