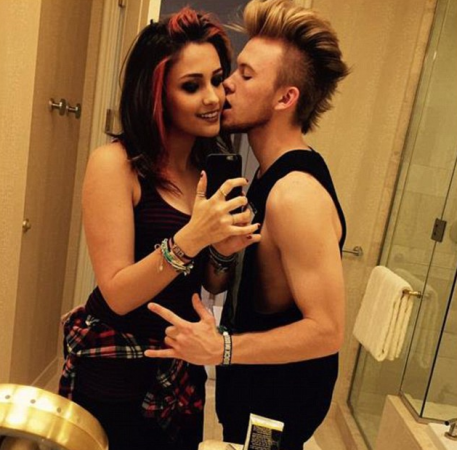 Paris Jackson, the only daughter of the late Michael Jackson, could be heading for yet another emotional meltdown soon, according to a new report.
Several changes in Paris' behaviour have started worrying her friends who fear the 17-year-old will soon be forced to deal with the same demons that led her to slash her wrist in 2013.
Shortly after her suicide attempt, Paris became close to her mother, and Debbie Rowe was said to be a positive influence on Paris. However, Paris is believed to have cut off all ties with her biological mother. According to Radar Online sources, Rowe hasn't see Paris in more than a year.
"Everyone thought she was back on track," a pal told the media outlet, "but now it looks like she's on the verge of a meltdown."
Another friend of Paris told the media outlet that she constantly acts crazy in video clips featuring her boyfriend Chester Castellaw.
"She grabs hold of his face and sings: 'This is my baby, if you flirt with him, touch him, talk to him, think about him, or even look at him, I will slit your throat!'"
A psychologist who reviewed the footage, also believes the duo does not share a healthy relationship, reported Radar.
Paris' friends also believe her plan to get hitched to Castellaw could drive him away from her. "I'm afraid if she tries to push Chester into marriage, he'll dump her, then all hell will break loose," warned the source.
Paris started dating Castellaw earlier this year and the Jackson family was happy with her choice, and Castellaw was deemed fit to be her beau.
"The Jackson family actually really, really likes Chester and they have done a thorough check on him and his family," a Radar Online source said. "They are not going to let just anyone steal the heart of their precious baby-girl."
However, they want the 17-year-old to take her relationship slow. "Everyone around Paris is telling her to take it slow with Chester, but she has no interest in taking it any slower than it already is going. Chester is not only her boyfriend but also her best friend and the one person that she confides in with everything."