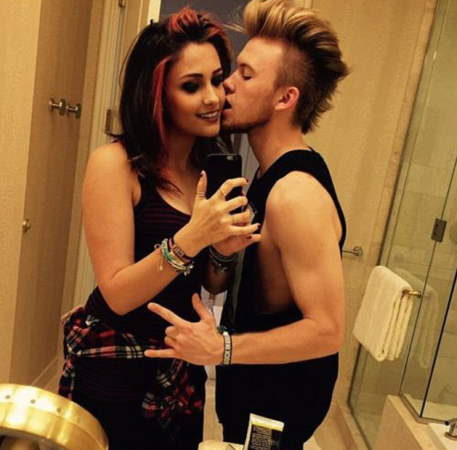 Paris Jackson's relationship with soccer player Chester Castellaw appears to be getting serious, and the young couple recently shared online a number of beautiful pictures of them together, showing their budding romance.
As reported earlier, Paris seems to be getting serious with Castellaw, and her family is said to be totally supportive of her choice. Reports have it that the 18-year-old is sensitive, and he has been very understanding of what Paris has gone through, and he has become a source of support for Paris, who attempted suicide a few years back.
Since getting romantically involved with Castellaw, the 17-year-old daughter of Michael Jackson appears to have had a style transformation. She recently debuted her new look via an Instagram picture, where she rocked punk style, and her beau displayed his quirky side in a black top and a mohawk.
The photo shows Castellaw kissing Paris on the check.
While all is good is good with Castellaw, her relationship with brother Prince is said to be strained. Recent reports even noted that the two siblings do not talk to each other.
"Paris is barely even speaking to her older brother Prince," a source close to the family told Radar Online, adding that Prince has been acting out since turning 18 and inheriting a fortune from his father's estate.
"She cannot tolerate her brother and says that he is disgracing their father's legacy," the insider said. "The family is doing everything that they can to keep Paris away from Prince because they do not want her to go down the wrong path again."
The media outlet noted that the family is grateful to Castellaw for keeping Paris distracted from her brother's antics.
"The family is incredibly grateful for him. They really like Chester and he treats her like a princess. He is the perfect distraction from her brother's antics."