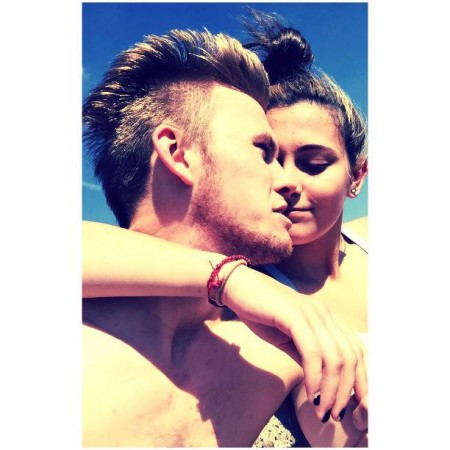 Michael Jackson's daughter Paris Jackson sparked engagement rumours last week when she was spotted wearing a new bling on her ring finger.
Paris is currently dating football player Chester Castellaw, and the ring sparked speculation that her 18-year-old beau has popped the question after just a few months of dating.
The Jackson family has not come forth with a confirmation regarding the alleged engagement yet, but a source close to the family told Radar Online that they approve of Paris' choice.
"The Jackson family actually really, really likes Chester and they have done a thorough check on him and his family," the source said. "They are not going to let just anyone steal the heart of their precious baby-girl."
However, they want the 17-year-old to take her relationship slow. "Everyone around Paris is telling her to take it slow with Chester, but she has no interest in taking it any slower than it already is going. Chester is not only her boyfriend but also her best friend and the one person that she confides in with everything."
Castellaw has been a source of support for Paris as she dealt with psychological issues stemming from the death of her dad, and Paris' family has been noticing an improved difference in her behaviour ever since the footballer came into the picture, reports noted.
"Chester is a really good influence on her and he keeps her healthy, sober and away from the Hollywood drama," said the source. Castellaw is reportedly a regular at the Jackson family home and has won over Paris' grandmother Katherine, her aunts and younger brother, Blanket.
However, reports note that Prince Jackson is yet to embrace the new man in his sister's life.
"She says he is her first true love and it is just great to see her happy," the family insider added. "This guy's intentions seem pure with her and he comes from wealth and a powerful family of his own, so he is not in it for any other reason than love."