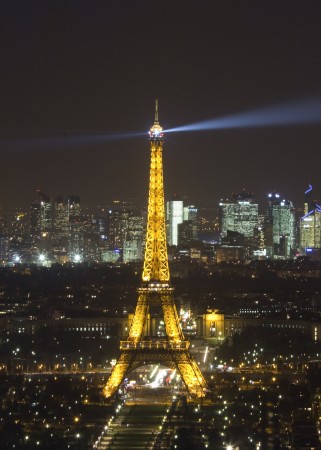 The Paris police arrested three journalists of Doha-based Al-Jazeera news channel on Wednesday for allegedly flying a drone from a Paris park without permission.
This comes even mysterious drones have been spotted flying over the city on Tuesday and Wednesday.
However, a spokesman for prosecutors said that there was "no relationship for the moment" between the three Al-Jazeera journalists and drones that mysteriously flew over important sites in Paris for two consecutive nights.
Agnes Thibault-Lecuivre, a spokesman for the city prosecutor's office, said the three Al-Jazeera journalists, all of them foreigners, were operating a drone in the Bois de Doulogne woods located in the western edge of Paris, France-24 television reports.
French law prohibits flying any aircraft, including drones, police helicopters and air ambulances, below an altitude of 19,700 feet in central Paris without permission. Violation of the law is punishable with a maximum prison term of up to one year and $85,000 in fine.
Even those who have license are not allowed to fly drones at night.
Al-Jazeera has claimed that the journalists were filming a report on the ongoing mystery of drones.
Al least five drones were reportedly spotted in the night sky on Tuesday and early Wednesday in and around major tourist venues such as the Eiffel Tower and the Place de la Concorde, news agencies in the French capital reported.
In January, a drone was spotted flying Elysée Palace, the US embassy, the Elysee Palace – residence of President François Hollande, nuclear plants, military installations, raising eyebrows and triggering fears, especially as they come after the terror attacks in the French capital last month.