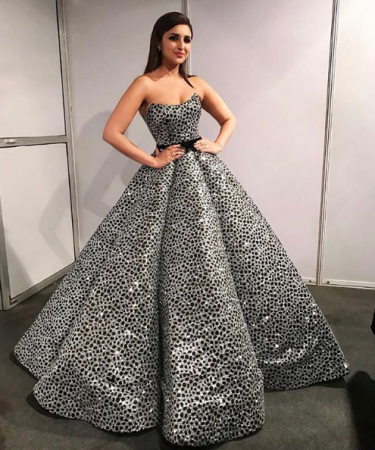 Golmaal Again actress Parineeti Chopra is strong-willed and bold when it comes to her body. The 29-year-old took a break from acting and inspired young women with her Fab to Fit story.
With her latest picture on Instagram captioned: "Bright blue sunglasses for life!!! thanks @drishtiplatinum for these beautiess!! [sic]", Parineeti is seen flaunting her stretch marks.
An important aspect to note here is she did not hide it and she didn't photoshop the picture. This made her fans connect better with her. It managed to lend credence to the idea that celebrities are normal, too.
One user commented: "Flaunting stretch marks proudly," while the other said: "The stretch marks represent your hard work."
A third fan said: "Thanks for flaunting those stretch marks with such flare. It makes you more of a human than a fictional star and makes us more comfortable in our own skin."
Now, that's a surprise. The comments seem to indicate that India's perception of the female body is changing. Earlier, Kareena Kapoor was trolled for hiding her stretch-marks for a magazine cover. Though we haven't come across positive views on such issues, this one is just the beginning.
From Parineeti being once trolled for her weight gain and not-so-perfect body to now being praised for showing stretch marks, the journey seems long but it's nevertheless a shift in mentality.
Parineeti disappeared for three years after 2014's Kill Dil to work on her body and become fit.
She said in an interview: "Before... All my life, I have struggled with how I look, how I feel, and how people looked at me. I was constantly made fun of, but the person I was, I generously laughed with them. Today, many people ask me what triggered the weight loss, did I give in to the 'Bollywood pressure'? To that I say - thank god I became an actor and had that pressure! I am able to achieve what I couldn't achieve otherwise. I feel more confident, I feel at peace, and I feel proud. I have struggled with my weight. I was big and unhealthy, not chubby. I took it upon myself to work towards this. I am fit now. People need to be fit no matter what size they are. I was big and unfit. It took me a year and half to reach here."
On the professional front, Parineeti will be seen in Kesari with Akshay Kumar and Sandeep Aur Pinky Faraar and Namaste Canada, along with Arjun Kapoor.