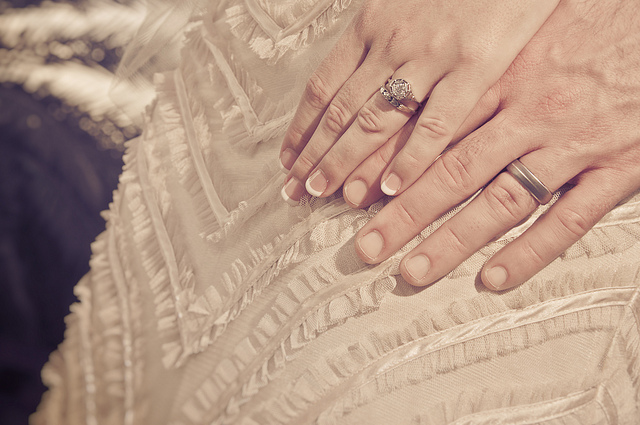 A video of a wedding that took place four months ago will restore your faith in love.
Sergeant Joey Johnson and Michelle Johnson shared two things even before they met – their last name and their birthday, 29 June. This year, they married a day before their birthday and Michelle received the best wedding gift ever.
Her veteran paraplegic husband decided to stand for their first dance as "husband and wife". Through the gesture, Joey wanted to show his gratitude to his wife for standing by him during good times and bad.
Joey, a native of Fishers in Indiana, served in Afghanistan for about a year. After he returned home, he was diagnosed with post-traumatic stress disorder. He needed a rush and thus, bought a motorcycle. Unfortunately, he met with an accident while riding the bike and ended up severing his spinal cord, the Daily Mail reports. He does not have any sensation below his chest since August 2012.
The couple had met four months before his accident and Michelle decided to stand by him. He proposed to Michelle in April 2013 and more than a year later, they got married.
"He had to learn a different way of life with him and his chair: from showering, to getting dressed and trying to function every day," explained Michelle.
"But we are soul mates." The couple knew they were meant for each other the day they found out they shared the same birthday.
When he stood up to dance with his new wife, there were tears of joy in everybody's eyes in the room.
His groomsmen had helped with a fashion harness that was suspended from the ceiling above the dance floor and with its help Joey could stand and dance to "A Thousand Years" by Christina Perri, with Michelle.
"Everyone was crying in the room," Michelle Johnson told ABC News. "It was so amazing to be eye to eye with him again. It was such a dream come true."
Michelle's mother had tricked her by suggesting that she return to the bridal suite after cutting the cake. When she returned to the reception, she was overwhelmed to see her husband standing, waiting to dance with her.
"She saw Joey standing and she had a big smile on her face which quickly gave way to tears. Everyone was in tears," wedding photographer Rachel Linnea wrote in an email to CNN.
"The dance was a beautiful moment to not only capture, but to experience."
You can see the video of the dance here