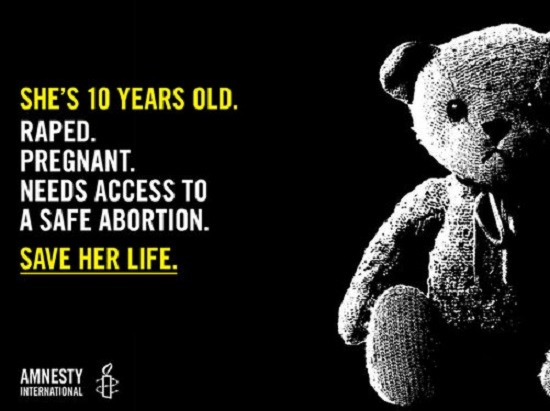 Citizens of Paraguay are outraged at the government for denying an abortion to a 10-year-old rape victim, who is five months pregnant, on grounds that she is healthy enough to give birth.
In Paraguay, abortion is banned, except in cases where a mother's life is in danger. In support of the 10-year-old girl, who was raped by her stepfather, hundreds of Paraguayans have taken to the streets, asking the government to allow a therapeutic abortion for the child.
Government health authorities, who see this as a bait for legalisation of abortion in the country, have opposed the demand. Paraguayan Health Minister Antonio Barrios denied the abortion call and stated that the girl was in good health at a Red Cross hospital.
Claudio Gimenez, the president of the country's Episcopal Conference, hit out against the activists and stated, "Some want to legalise abortion... the killing of an innocent who still is in a period of gestation."
Paraguayans, however, think differently. "When the other children play, this girl wants to play, too," Britez de Mendoza, a protester, told The Associated Press while demanding strict penalties for sex abusers. "She is still a child."
The sexual abuse case of the 10-year-old has seen an unprecedented support from the public in Paraguay, considering it does not have a strong culture of social protests.
The issue has also grabbed the attention of International organisations, including the United Nations and Amnesty. The United Nations human rights commission slammed the Paraguayan government, saying it has failed to protect a 10-year-old rape victim.
In a statement, UN experts have said Paraguay has refused to provide treatment to save the life of the pregnant girl, "including safe and therapeutic abortion in a timely manner".
According to World Health Organisation, child pregnancies are risky and can lead to complications and death as "the bodies of young girls are not developed to carry on with a pregnancy".
Amidst increasing protests, the victim's stepfather has been arrested and is being kept in an isolated cell so as to prevent him from getting attacked by other inmates, who are outraged over his act. The police have also arrested the girl's mother for negligence.