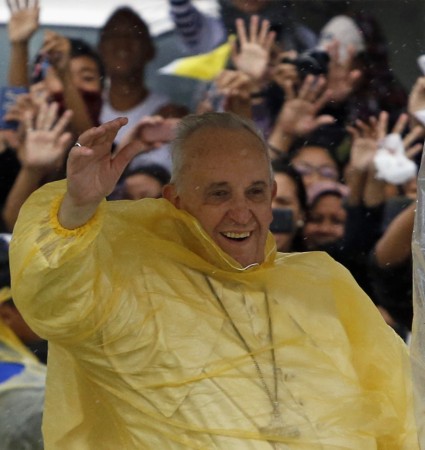 On the final day of his Asia visit, which also included Sri Lanka, Pope Francis is holding a huge open mass, wherein a record crowd of six million people is expected. A few hours ahead of mass on 18 January 2015, an endless stream of people are seen heading towards Manila's Rizal Park.
3.23 pm (IST): Pope Francis now inside the Nunciature. People overflow along Taft Avenue for the Closing Mass as the Pontiff nears the nunciature.
2.52 pm (IST): Pope Francis convoy goes around Luneta Park, the Potiff greets as many pilgrims as he can. He gives his warm smile and blessing to the millions gathered at Quirino Grandstand.
2.45 pm (IST): Pope Francis dons his yellow rain coat again to greet the people. He meets father of volunteer who died after Leyte Mass and greets President Aquino and Vice President Binay.
2.40 pm (IST): Crowd gets ready for their "Pope Francis wave"
2.35 pm (IST): As the choir sings "Pananagutan", Pope Francis gets ready to go around around Luneta Park in Manila once again to greet as many devotees as he can. The Pilgrims hold out their hands to receive his blessing.
2.34 pm (IST): "Keep the flame of faith alive in your hearts. Walk always as children of the light." Pope Francis gives the final blessing as his historic mass at Quirino Grandstand formally ends. The Pope makes his way down the stage.
2.30 pm (IST): Mass goers sing as messengers of light, "Tell the World of His Love", holding up their candles. Singing voices and lights fill Luneta, Quirino grandstand.
2.24 pm (IST): Candle-lighting and mission-sending. "This is the mission of every Christian: lumina pandit, to spread the light and to tell the world of God's love...Let there be light! Who will carry the light if we do not?" Pilgrims light their candles.
2.22 pm (IST): Tagle leads the crowd to say "Mabuhay ka Santo Padre. Let the light of Christ shine!"
2.19 pm (IST): Cardinal Tagle, the 32nd Archbishop of Manila, addresses Pope Francis: "In the name of every Filipino: Thank you very much. Maraming salamat po." Tagle, who is touted as a possible successor to the current Pontiff said. "You often end your encounters by saying "pray for me." We Filipinos promise we will pray for you... Wherever you see the light of Jesus, remember the Filipinos are with you in spreading that light."
2.15 pm (IST): Pope Francis and Bishop Villegas share a hug.
2.14 pm (IST): Socrates B. Villegas, Archbishop of Lingayen-Dagupan in Pangasinan, and the President of the Catholic Bishops' Conference of the Philippines takes the dais. "You taught us that love casts all fears...Your love for the Filipino people is typhoon-proof...You have brought us sunshine. You are our sunshine...Thank you for being a child of God with us...Pope Francis, we love you."
2.09 pm (IST): A silent prayer following communion.
1.56 pm (IST): Over 5000 people help distribute communion to the huge crowd.
1.48 pm (IST): The choir leads the singing of "The Lord's Prayer".
1.40 pm (IST): Pope Francis raises bread and wine, Catholics believe that they have become body and blood of Christ. Church leaders receive communion from Pope Francis, assisted by Tagle.
#PopeFrancisPH raises bread/wine, Catholics believe they become body/blood of Christ. #ShowThePope pic.twitter.com/s0qTGXWeRF

— Rappler (@rapplerdotcom) January 18, 2015
1.31 pm (IST): Eucharistic prayer ongoing. It is the worship offered to the Father by Christ as it was at the moment of his passion, death and resurrection, but now it is offered through the priest acting in the person of Christ, and it is offered as well by all of the baptized, who are part of Christ's Body, the Church.
1.29 pm (IST): Offertory, where belivers offer bread and wine to become Body and Blood of Christ, is underway. Pope Francis personally talks to each offerer.
1.27 pm (IST): "For the poor, the elderly, the sick and all those in need, that they may be strengthened by our love for them as brothers and sisters. Let us pray to the Lord."
1.26 pm (IST): A Prayer of the Faithful is recited in various Philippine languages.
1.24 pm (IST): "For all the nations of the world, that they may work together towards the dialogue of solidarity, the culture of peace, sharing of good and generosity of people of goodwill. Let us pray to the Lord."
1.18 pm (IST): Moment of Silence for reflection.
1.16 pm (IST): "At the end of my visit to the Philippines, I commend you to Jesus who came among us....Please, don't forget to pray for me. God bless you."
1.14 pm (IST): "We need to see each child as a gift to be welcomed, cherished, protected... We need to protect our young people not allow them to be robbed of hope and condemned to life on the streets."
1.05 pm (IST): Pope Francis begins Homily. "I have listened to you sing the song We Are All God's Children. That is what the Santo Niño tells us. He reminds us of our deepest identity: All of us are God's children, members of His family," he says. "Filipinos are called to be outstanding missionaries of the faith in Asia."
1.03 pm (IST): The Holy Gospel according to Mark is read. "Let the little children come to me... for the Kingdom of God belongs to them". "Whoever does not accept the kingdom of God like a child shall not enter it."
12.59 pm (IST): Jofree Lacson, a student from the San Carlos Seminary, delivers Second reading: "He destined us for adoption to himself through Jesus" with core messsage "We are all God's children" commences.
12.56 pm (IST): Filipino singer, actor, TV host, commercial model Erik Santos sings the Responsorial Psalm: "All the ends of the earth have seen the saving power of God."
12. 54 pm (IST): Visually impaired girl reads First Reading: Isaiah 9:1-6 "The people who walked in darkness have seen a great light; upon those who dwelt in the land of gloom a light has shone." in Barille.
12.45 pm (IST): Choir begins singing "Gloria in excelsis Deo"
12.40 pm (IST): Concelebrants and Pope Francis make their way to the Quirino Grandstand to begin the mass. A choir of around 1,000 members and orchestra of around 200 are already in place. Choir sings "Laudate Dominum" at the start of the Concluding Eucharistic Celebration.
EARLIER: Bells ring at the Quirino Grandstand. Crowd estimates range from over 3 to 4 million. #PopeFrancisPH https://t.co/b0J4l5lJTV

— Rappler (@rapplerdotcom) January 18, 2015
12.36 pm (IST): Bells ring in the middle of silence. The Holy Mass is about to start in a few minutes.
12.27 pm (IST): Mass goers reminded not to raise banners or clap hands. "Let's keep the sacredness of the Holy Mass," tweets authorities.
11.40 pm (IST): Pope during "Encounter with the Youth" at the University of Sto. Tomas (UST) spoke about the importance of crying. Making Glyzelle Palomar, a girl who became emotional after sharing to the Holy Father about her tough life on the streets, an example, told them to learn how to weep. "If you don't learn how to cry, you can't be good Christians," he explained.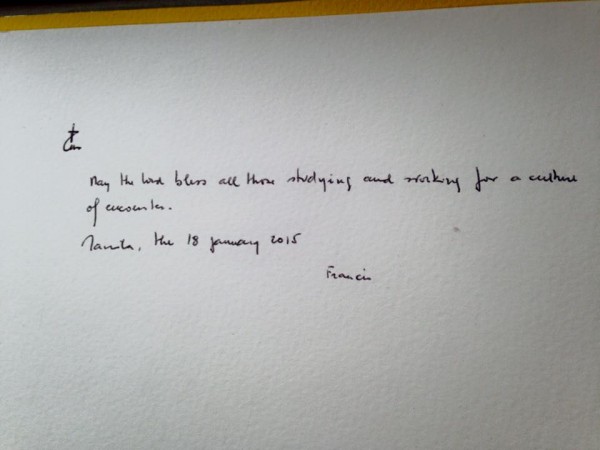 With his week-long Asia trip, Pope Francis is attempting to spread the message of "mercy and compassion" in Sri Lanka and Phillipines. The highlights of his itinerary includes presenting Sri Lanka with its first saint - India-born Joseph Vaz - visiting the victims of typhoon Haiyan in the city of Tacloban and the largest papal mass in Manila's Rizal Park.
An overwhelming attendance for a celebration of faith!! RT @krizzy_kalerqui: Woah!! Sea of people! #PopeFrancisPH pic.twitter.com/UfYdZe7r0u

— giff ricarte (@geepyo) January 18, 2015
While most of his visit turned out to be huge sucess, the mass for typhoon victims on Saturday had to be cut short owing to bad weather. Braving the strong winds and rain, Pope Francis had joined them donning the same cheap, plastic yellow rain poncho over his vestments that Mass-goers were given to guard them against the latest storm to batter their island, reported US News.
Tropical Storm Mekkhala, which cut short his stay in Tacloban is also expected to prove hindrance to the Sunday Mass. However, that didn't deter the millions heading towards the hallowed park in Manila. It is his mere presence that most believers want.
"Pope Francis cannot give us houses and jobs, but he can send our prayers to God," said 62-year-old Tacloban resident Ernesto Hengzon.
The government has also released a "do's and dont's" list as part of public service announcement:
Don't bring the elderly, pregnant women and children.
No bomb jokes that may cause panic.
No weapons of any kind.
Don't wear jewellery or bring excessive money that can attract pickpockets.
Bring food, water, personal medicines, raincoats, an ID but NO umbrellas.
Avoid bringing bags that will take a long time to inspect; best to use transparent plastic ones.