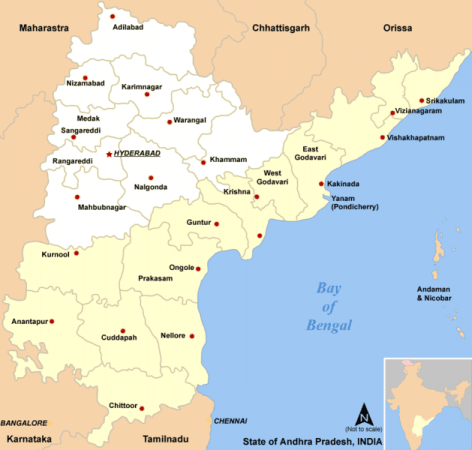 The Union Government-appointed KC Sivaramakrishnan Committee has rejected the State Government-favoured spot of Vijayawada-Guntur for building the new capital city for Andhra Pradesh.
The panel has suggested spreading of government departments to various cities, instead of centralising all government functions at one location.
It is of the view that if the new capital is built between Vijayawada and Guntur, it will have long-term economic and environmental consequences. Instead, the expert committee has suggested various alternatives for the location of the State's new capital city.
Media reports said the panel has favoured spreading the government offices to different cities in AP-Visakhapatnam area in Coastal Andhra, Kurnool, Anantapur and Srikalahasti areas in Rayalaseema region.
The committee has clarified that it is not in favour of concentrated development at one location, which requires large chunk of land. If the State Government goes for the Vijayawada-Guntur location, it will have to buy large chunk of fertile land, which could be a threat to food security in the long run, the panel has said.
The panel members suggested that a string of cities in the state could be developed into business, investment and industrial hubs and the number of such cities could be decided by the State Government at political level.
One of the key members of the panel said that the concept of having one big capital is outdated and the capital functions and the urban development could be spread to more number of cities in the state.
"We should look at the capital as something which will be there for hundreds of years and definitely not from short-term perspective. We should look at it from the 21 century model of decentralised development," The Hindu quoted Professor Ravindran, one of the members of the committee.
Even Sivaramakrishnan has also been advocating the decentralisation of capital city since the formation of the committee. Citing the example of Hyderabad, where all 192 government departments have been located, he questioned the need of having the departments of ports and fisheries in Hyderabad.
Sivaramakrishnan had said the administrative capital could house only key departments, which render critical functions to the people and other departments could be spread relevantly over other cities in the state.
The panel has, however, avoided pin-pointing one location or city to be made the capital and suggested half-a-dozen options available.